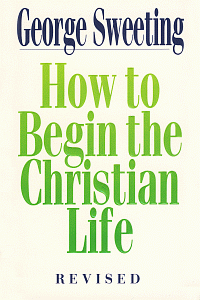 How to Begin the Christian Life
Highlights
Are you unsure if you're a Christian?
Do you want to know how to pray, study the Bible, or handle trouble?
Are you interested in God's principles for giving financially to the church?
Product Details
Beginnings—they're crucial! Houses need strong foundations. Races are won by strong starts just as much as fast finishes.
The beginning of your Christian life is no different. A strong start to your Christian life is not only pleasing to our Lord but will help equip you for what lies ahead. The future will be exciting-but challenging. Will you be ready?
How to Begin the Christian Life — is a modern classic. With more than 400,000 copies in print it has already helped tens of thousands begin their Christian lives. Now let it help you or someone you know.
About the Author
Dr. George Sweeting has served at the Moody Bible Institute of Chicago for over 29 years, first as President for over 16 years, and then as Chancellor. Sweeting was the only president of the Institute to have attended the school. During Dr. Sweeting's administration, the evening school opened 21 off-campus locations, the MBI pastor's conference began, the number of radio stations owned by MBI increased, and the Moody Broadcasting Network and Moody Graduate School were born. He has also served as the Senior Pastor of historic Moody Memorial Church in Chicago. A renowned author of more than 30 books, he has traveled worldwide as teacher and evangelist for over 50 years.
Dr. Sweeting is a vital member of the Chain of Lakes Community Bible Church staff in Lake Villa, Illinois. He is the Director of Senior Adults and teaches a large adult class on Sundays. Dr. Sweeting also hosts a monthly ministry for seniors called, Pacesetters.