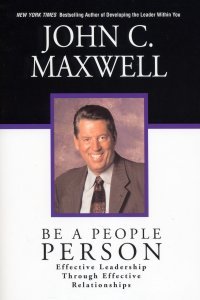 Be a People Person
Effective Leadership Through Effective Relationships
Product Details
Being a leader means working with people, and that's not always easy! Interpersonal relationships can make or break a leader—whether in the office, the church, or elsewhere. That's why it's so important to be a "people person" and develop your own skills in tapping that most precious of all resources — people.
This book can help you develop the qualities of an effective leader, understand and help people with difficult personalities, inspire others to excellence and success, and more!
About the Author
John C. Maxwell was born in Garden City, Michigan in 1947. Maxwell followed his father into the ministry, completing a Bachelor's degree at Ohio Christian University in 1969, a Master of Divinity degree at Azusa Pacific University, and a Doctor of Ministry degree at Fuller Theological Seminary.
For over thirty years, Maxwell has led churches in Indiana, Ohio, California, and Florida. After serving as senior pastor for 14 years, in 1995, he left Skyline Church, near San Diego, to devote himself full-time to speaking and writing. However, in 2004, he returned to ministry at Christ Fellowship in Palm Beach Gardens, Florida, where he is currently a teaching pastor. On November 16, 2008, Maxwell began serving as a guest pastor at the world-famous Crystal Cathedral, in Orange County, California. Maxwell has returned to preach at the Crystal Cathedral several times, and his messages are broadcast worldwide on the Hour of Power television program, seen by an estimated 20 million viewers.
Maxwell is an internationally recognized leadership expert, speaker, and author who has sold over 13 million books. His organizations have trained more than 2 million leaders worldwide. Dr. Maxwell is the founder of INJOY, Maximum Impact, ISS and EQUIP, an international leadership development organization working to help leaders. EQUIP is involved with leaders from more than 80 nations. Its mission is "to see effective Christian leaders fulfill the Great Commission in every nation."
Every year Maxwell speaks to Fortune 500 companies, international government leaders, and organizations as diverse as the United States Military Academy at West Point and the National Football League. A New York Times, Wall Street Journal, and Business Week best-selling author, Maxwell was one of 25 authors and artists named to Amazon.com's 10th Anniversary Hall of Fame. Three of his books, The 21 Irrefutable Laws of Leadership, Developing the Leader Within You, and The 21 Indispensable Qualities of a Leader have each sold over a million copies.
Maxwell serves on the Board of Trustees at Indiana Wesleyan University and has a building named after him there, the Maxwell Center for Business and Leadership.