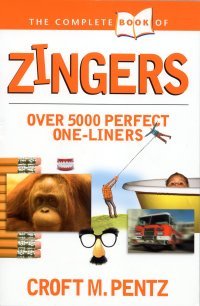 The Complete Book of Zingers
Over 5000 Perfect One Liners
Highlights
A great collection of amusing one-sentence sermons, proverbs, adages, illustrations, dictums, and truisms.
Organized in over 150 categories from Ambition to Zeal
Product Details
Just as vitamins keep your body strong, these zingers are a daily dose of inspiration for your soul. This collection of witty one-liners is perfect for adding punch to sermons, speeches, newsletters, bulletins–just about any time you want to drive a point home and give people something to mull over. The Complete book of Zingers is organized into more than 150 alphabetical categories, from Ambition to Zeal, so finding the right one is a snap. Keep this book handy for whenever you need to put your finger on just the right tidbit of wisdom.
About the Editor
Rev. Croft M. Pentz was born in 1931 in Roadside, Pennsylvania. He graduated from Washington Township High School with the Class of 1949. While in high school, he lettered in football, baseball, basketball and track. He later received his theological training at Central Bible College, Springfield, Missouri.
Rev. Pentz began his ministry in Little Rock, Arkansas in August 1952. He served as a minister to the deaf for 44 years from 1952 to 1996. He established Calvary Chapel of the Deaf in Elizabeth, N.J. in 1954 and served as its pastor for 42 years. From 1954 to 1996, he was the New Jersey deaf director for the Assemblies of God. From 1957 to 1996, he served as chaplain of the New Jersey State School for the Deaf.
He appeared weekly on "The Evangel" television show in New York City from 1957 to 1971. The Jan. 8, 1960 edition of TV Guide featured an article about his ministry. He interpreted for the deaf at five of the Rev. Billy Graham's crusades — one in Little Rock, three in New York City and one in northern New Jersey. From 1996 to 2007, he served as pastor of senior adults/outreach at Calvary Assembly of God, Waynesboro. This involved services at four nursing homes, teaching an adult Sunday School class and editing the Senior Adult Paper, which was published six times annually. While in Waynesboro, he also assisted local organizations by providing sign language services for the hearing impaired. In 1999, he led the opening prayer for the Pennsylvania House of Representatives seven times.
Rev. Pentz also was an accomplished author having authored 30 sermon outlines, several of which are still in print. He compiled two books of quotes, The Complete Book of Zingers and 1,001 Things Your Mother Told You. He also compiled two books of Christian poetry and authored four Christian handbooks with more than 1 million books sold and several translated into other languages. At age 77, Pentz passed away at Hershey Medical Center in 2008.