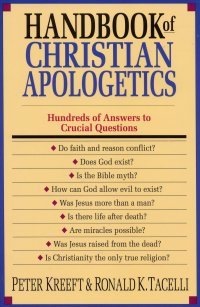 Handbook of Christian Apologetics
Hundreds of Answers to Crucial Questions
Highlights
This book categorizes, summarizes, and offers refutations of the major arguments against the Christian faith
Question and answer format
Voted one of Christianity Today's 1995 Books of the Year!
Product Details
Reasonable, concise, witty and wise, Peter Kreeft and Ronald K. Tacelli have written an informative and valuable guidebook for anyone looking for answers to questions of faith and reason. Whether you are asking the questions yourself or want to respond to others who are, here is the resource you have been waiting for.
Topics include:
The existence of God
God's nature
How we know God
Creation and evolution
Providence and free will
Miracles
The problem of evil
The Bible's historical reliability
The divinity of Christ
The resurrection
Life after death
Heaven and hell
Salvation
Christianity and other religions
Objective truth
About the Authors
Peter Kreeft, Ph.D., Fordham University, is professor of philosophy at Boston College where he has taught since 1965. A popular lecturer, he has also taught at many other colleges, seminaries and educational institutions in the eastern United States. Kreeft has written more than fifty books, including The Best Things in Life, The Journey, How to Win the Culture War and, with Ronald Tacelli, Handbook of Christian Apologetics.
Ronald K. Tacelli, S.J., is associate professor of philosophy at Boston College and has published articles in the Public Affairs Quarterly and Downside Review.
Endorsements
A virtual one-volume, self-study course on essential apologetics, elegantly outlined in plain English. Highly recommended.