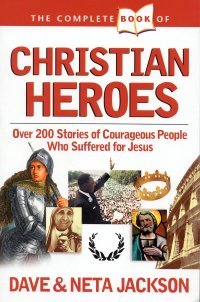 The Complete Book of Christian Heroes
Over 200 Stories of Courageous People Who Suffered for Jesus
Highlights
Part of the Complete Book of Series
Product Details
Who is your hero? In our celebrity-worshiping culture, true heroes seem in short supply. What does it look like to live for Christ—and to give your life for him? The Complete Book of Christian Heroes tells the inspiring stories of more than 200 Christian men and women through the ages who lived lives of commitment and sacrifice for what they believed:
John Bunyan, the English preacher who wrote The Pilgrim's Progress while in prison for his beliefs
Mary Dyer, a Quaker who was banished from seventeenth-century Boston and ultimately gave her life for the cause of religious freedom
Brother Andrew, the former Dutch soldier who spent years smuggling Bibles behind the Iron Curtain
Todd Beamer, the young husband and father who went to his death fighting hijackers aboard Flight 93 on September 11, 2001
About the Authors
As a husband/wife writing team, Dave and Neta Jackson are enthusiastic about books, kids, walking with God, gospel music, and each other! Together they are the authors or coauthors of over 100 books. on Publication Record at the In addition to writing several books about Christian community, the Jacksons have coauthored numerous books with expert resource people on a variety of topics from racial reconciliation to medical ethics to ministry to kids in gangs.