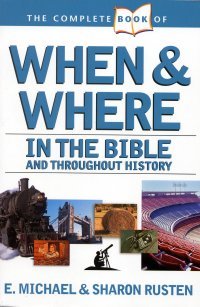 The Complete Book of When and Where
In the Bible and Throughout History
Highlights
Features 1001 events that shaped our world
Contains a detailed timeline over thousands of years
A great resource for speakers and teachers, a treasure trove of information
Product Details
The Complete Book of When and Where focuses on 1001 events that shaped the religious consciousness of the world–specifically, events in Jewish, Muslim, and Christian history. Within minutes, you can understand the broad trends and major events of any era of world history.
Entries give background and details surrounding events such as:
1456, when Johannes Gutenberg first printed the 42-line Gutenberg Bible, from the text of the Vulgate, Jerome's Latin translation of the Bible from Hebrew and Greek
July 8, 1741, when Jonathan Edwards rocked New England with his famous sermon "Sinners in the Hands of an Angry God"
June 28, 1941, when World War I erupted following the assassination of the Austro-Hungarian crown prince in Serbia
About the Authors
Mike and Sharon Rusten are not only marriage and business partners; they also share a love for history. Mike studied at Princeton (B.A.), the University of Minnesota (M.A.), Westminster Theological Seminary (M.Div.), Trinity Evangelical Divinity School (Th.M.), and New York University (Ph.D.). Sharon studied at Beaver College, Lake Forest College, and the University of Minnesota (B.A.), and together with Mike has attended the American Institute of Holy Land Studies (now Jerusalem University College).