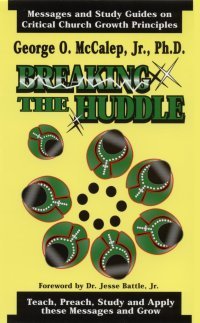 Breaking the Huddle
Messages and Study Guides on Critical Church Growth Principles
Highlights
Move from the comfort zone of rhetoric to the deep waters of implementation
Teach, preach, study and apply these messages and grow
Product Details
Breaking the Huddle, is a compilation of messages that have been a part of the author's lecture series on church growth. If a football team is to be successful, it must break the huddle and run the play. Likewise, the church must do the same. Dr. McCalep asserts that the problem with the local church is that it very seldom breaks the huddle. The analogy is a strong creative illustration of what the church must do if she is to be obedient to God's purpose.
About the Author
Dr. George O. McCalep, Jr., earned a Bachelor of Science from Alabama A & M College, a Master of Science from the University of Kansas, a masters degree in administration and supervision from John Carroll University, a PhD from Ohio State University, and a Master of Divinity from Morehouse School of Religion.
Pastor McCalep assumed pastorship of Greenforest Community Baptist Church in in Decatur, Georgia in 1979. The congregation grew from mission status with a membership of 25 to a membership of over 6,000. In 1988, the church purchased a new facility and increased its land holdings to 98 acres. The church owns and operates the second largest predominantly African American Christian school in the country, the Greenforest/McCalep Christian Academic Center.
McCalep passed away on Saturday, December 23, in 2006 at the age of 67. Dr. McCalep had been a faithful instructor for the Congress of Christian Education and Sunday School Publishing Board Education Conference. He was also the President of Orman Press and the author of numerous books relating to spiritual and church growth.