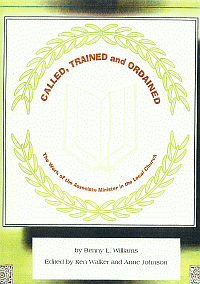 Called, Trained and Ordained
The Work of the Associate Minister in the Local Church
Product Details
Called, Trained and Ordained is a manual for the work of the associate minister in the local church. Full of practical advice, wisdom from Scripture, and knowledge of human behavior, this work will serve to be helpful to both associate ministers, pastors, and lay workers.
Beginning with an associate minister's call to the ministry, Williams outlines how to recognize and confirm a "calling". Williams then considers what the scope of the associate minister's duties and purposes are in the context of his relationship with the senior pastor and congregation at large. Facing spiritual warfare, receiving adequate training, and caring for oneself and family is also discussed at length.
Central to this book is Williams' direct and indirect call for new pastors to clothe themselves with a spirit of humility and to eagerly desire God's glory lest they fall into the dangerous sins of pride and self-glorification. Associate pastors are admonished to be sensitive to the Spirit's leading and to be obedient to God in all situations at all times. Careful warning is given to avoid all forms of gossip, envy, jealousy, and competition and to instead love, care for, and count others better than oneself. This work will prove to be a helpful and encouraging resource to all who seek to become or train associate pastors.
About the Author
Benny L. Williams was born in Louisville, Kentucky. Benny attended Joe Thomas School of Music, Louisville public schools, Western Kentucky University and Boyce Bible College. Benny received his Bachelor's degree from the Christian Institute of Biblical Studies and graduated in 2001. He has served as the Pastor of Mt. Nebo Baptist Church, Louisville, Kentucky for the past 29 years. He is the co-founder of the Mt. Nebo Bible College and the President of Possessing the Land Ministries. He has participated in short term missions through Kentucky Kenya Partnership and is presently a team leader for Project Zambia Missions Program. Benny has served on the National Baptist Song Leaders Convention Youth Board, Kentucky Baptist Executive Board, Long Run Baptist By-Vocational Pastors Committee, and United Crescent Hill Ministry Board.
Benny has also served as a Lead Sales Associate for LifeWay Christian Book Stores for over twenty years and is often referred to as the "pastor's pastor." Consistently giving prayerful support and Spirit-filled counsel, his ministry to his customers at LifeWay has been a high privilege. In addition to his pastorate and sales positions, he is the author of three books, a number of sermons, Bible studies, and group study guides.