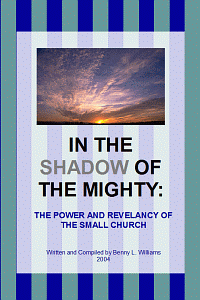 In the Shadow of the Mighty
The Power and Relevancy of the Small Church
Product Details
Within the pages of In the Shadow of the Mighty: The Power and Relevancy of the Small Church, Pastor Benny Williams addresses a number of insecurities, doubts, and "limitations" the small church faces in its struggle to work in the kingdom of God. He quickly identifies which of these "limitations" are true drawbacks for the smaller congregation and which are the result of ungodly thinking. Williams then seeks to examine the many benefits of a small congregation - both for its members and its community. He looks at ways to increase effectiveness and encourages pastors of small churches to lead in the way of thanksgiving, praise, and single-minded devotion to Christ. This book will prove to be helpful and up-lifting for those shepherding the small church, those mentoring leaders of smaller congregations, and anyone interested in general church dynamics.
About the Author
Benny L. Williams was born in Louisville, Kentucky. Benny attended Joe Thomas School of Music, Louisville public schools, Western Kentucky University and Boyce Bible College. Benny received his Bachelor's degree from the Christian Institute of Biblical Studies and graduated in 2001. He has served as the Pastor of Mt. Nebo Baptist Church, Louisville, Kentucky for the past 29 years. He is the co-founder of the Mt. Nebo Bible College and the President of Possessing the Land Ministries. He has participated in short term missions through Kentucky Kenya Partnership and is presently a team leader for Project Zambia Missions Program. Benny has served on the National Baptist Song Leaders Convention Youth Board, Kentucky Baptist Executive Board, Long Run Baptist By-Vocational Pastors Committee, and United Crescent Hill Ministry Board.
Benny has also served as a Lead Sales Associate for LifeWay Christian Book Stores for over twenty years and is often referred to as the "pastor's pastor." Consistently giving prayerful support and Spirit-filled counsel, his ministry to his customers at LifeWay has been a high privilege. In addition to his pastorate and sales positions, he is the author of three books, a number of sermons, Bible studies, and group study guides.