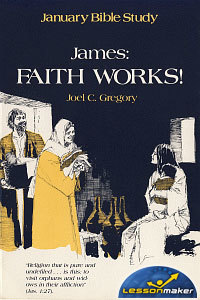 Product Details
The Letter of James may have been the first New Testament work that was written. Strikingly, it contains the greatest number of references to Jesus's teachings—especially to the Sermon on the Mount—of any book outside the Gospels.
James's Letter is a series of seemingly loosely connected topics. Some students have viewed it as a string of directives that covers a broad range of subjects. However, a number of themes stand out as major concerns of the writer.
James's readers may have been poor and persecuted, for he wrote about trials—tests of their faith. He challenged his readers to be active instead of passive, and he warned them against showing partiality. He stressed that saving faith issues in good works; works are concrete evidences of faith. James cautioned believers to control their tongues and warned against friendship with the world. He directed strong words to persons who presumed on the future and to unethical wealthy people. James encouraged Christians to be patient and to pray.
Perhaps, James's theme may be summed up in this sharp demand: "Be doers of the word, and not hearers only" James 1:22. Genuine faith works.
About the Author:
Joel C. Gregory was born in 1948 and is a native of Fort Worth and a descendant of several generations of Texans. His home church is Connell Baptist Church, Fort Worth, where he was converted, baptized, licensed, and ordained to preach. Joel surrendered to the gospel ministry at age 16. At 17, Joel left Fort Worth to begin undergraduate work at Baylor University. He was graduated summa cum laude with a double major in religion and Greek. He began his active local church service as the youth minister at the First Baptist Church of Woodway, Texas, in 1968. Shortly after that, he was called to the pastorate of Edgefield Baptist Church where he served from 1968 to 1970.
In 1970, Joel enrolled at Southwestern Baptist Theological Seminary of Fort Worth. He was called to the pastorate of Acton Baptist Church in Granbury, Texas, where he served while in seminary (1970-1973). In 1974, Joel began work on his Ph.D. in religion at Baylor University in Waco. While studying for that degree, he served as pastor for Cottonwood Baptist Church of Falls County, Texas, and Emmanuel Baptist Church of Waco.
In 1977 Gambrell Street Baptist Church of Fort Worth called Joel to be the pastor. Joel resigned from the church in 1982 to join the faculty of Southwestern Seminary as the assistant professor of preaching. He served in that position from 1982 to 1985, teaching homiletics and traveling across the nation as an itinerant preacher and teacher of preaching. He was awarded his Ph.D in 1983.
In 1985 Travis Avenue Baptist Church in Fort Worth called Joel to be the pastor. During Joel's pastorate the church gained thousands of additions to its membership and began a national television and radio ministry. While serving at Travis, Joel was named the preacher for both the "International Baptist Radio Hour" and "Baptist Television Hour." Joel also served as president of the Baptist General Convention of Texas for two terms and was appointed to the Foreign Mission Board of the Southern Baptist Convention.
In 1990, the First Baptist Church of Dallas called Joel to be the pastor. Highlights of Joel's two years at the church included attendance of more than 10,000 at Sunday School on Easter in 1991 and a mission trip with two hundred members of the youth choir and orchestra visiting the 1992 Summer Olympics in Barcelona. Joel resigned in 1992 and his tenure there ended. He wrote a best-selling memoir of this experience, Too Great a Temptation. This book became the basis of one of the ten most performed plays in America, God's Man in Texas.
In 2004 Joel organized Gregory Ministries, a corporation dedicated to ministry. Also in 2004 Joel joined the administration of Georgetown College as a Distinguished Fellow. Gregory also leads a seminar in continuing homiletic education for ministers, Proclaimers Place, meeting at Georgetown, Fort Worth, Oxford University in England, and other locations. In 2005 Joel joined the faculty of George W. Truett Theological Seminary as Professor of Preaching.
Today Joel continues a ministry of teaching and preaching internationally. Joel is married to Joanne Michele. He is the father of two sons, Grant and Garrett. He is the stepfather of Jimmy and Linda Kent. Joanne Michele is a registered nurse, flutist and accomplished signer for the hearing impaired. They make their home in Fort Worth and Waco.
Endorsements
American History does not know a preacher who moves with such ease and grace across what many have considered the unbridgeable chasm of race as does Joel Gregory. Possessed of a rare integrity in proclamation of the Savior's Gospel, with stellar gifts as a preacher and a heart "strangely warmed", Joel Gregory is a messenger of Christ to all America.