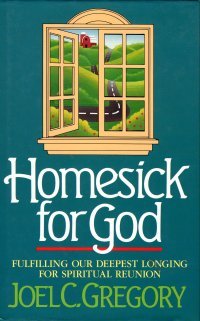 Homesick for God
Fulfilling Our Deepest Longing for Spiritual Reunion
Product Details
If a shepherd leaves 99 sheep to track down one stray lamb, how much more will God search for a wandering person?
If a merchant sells all he has to purchase a treasure of inestimable worth, would not God sacrifice at least as much to repossess one of His own?
Homesick for God uses these parables and similar biblical passages to reinforce the point that there is a God who looks for those who stray from home, who frequently rescues His children from impossible situations, and who forgives them with no recriminations.
Author Joel Gregory examines the motivations of spiritual separation and reunion and then explains how to turn a longing for God into a reconciliation and then how to cultivate "staying power" with God through appropriating His promises and trusting His son.
There's a bit of the Prodigal Son in everyone, but like that youth's father, God does not want to write us off.
Gentle, firm, and consoling, Homesick for God will deepen your understanding of God's love and remedy even the most fervent case of spiritual homesickness.
About the Author
Joel Clifford Gregory is Professor of Preaching at George W. Truett Theological Seminary of Baylor University and was appointed Distinguished Fellow by Georgetown College, Kentucky, in 2004. He is also the founder and president of Joel Gregory Ministries, a non-profit organization supporting a preaching, teaching, counseling, and writing ministry.
Endorsements
American History does not know a preacher who moves with such ease and grace across what many have considered the unbridgeable chasm of race as does Joel Gregory. Possessed of a rare integrity in proclamation of the Savior's Gospel, with stellar gifts as a preacher and a heart "strangely warmed", Joel Gregory is a messenger of Christ to all America.