LifeGuide Bible Studies Old and New Testament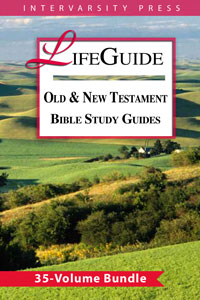 Product Highlights
Over 5 million LifeGuides in print - one of the most popular Bible study series ever!
Inductive study approach - the type of in-depth study you expect from InterVarsity Press
Leader's notes included- everything you need to lead a small group
Approach questions - help to get you thinking and inspire group discussion
Application questions - encourage you and your group to act on what you have learned
Product Details
The LifeGuide Bible Study Series has sold over 5 million copies in print. Here's 3 reasons why:
They do what they promise. That is, LifeGuides actually guide us to be transformed by what we read in the Bible. These guides lead us to discover for ourselves what the Bible is saying and how to apply these truths to our lives today.
They are personal and thought provoking. LifeGuide studies can be used for group studies on nearly any Scripture and many important topics. Yet they can also be used to craft sermons and Bible lessons.
Tremendous value. All combined, the LifeGuide series is now 114 volumes, containing over 1,000 Bible study lessons. This is enough material to do weekly Bible studies for more than 24 years!
This 35-volume bundle includes Bible studies for every book of the New Testament. It also includes studies for most of the Old Testament. Each volume contains 12 weekly studies, making it ideal for quarterly studies that sync with Sunday school or small group schedules. Each study begins with an introduction that challenges us to think about the Bible text being studied. This is followed by a dozen or more provocative questions that will help you dig deeper into the Word.
Here is an example for studying the Sermon on the Mount. The LifeGuide Series breaks this up into 2 weekly studies. In the first study, the author reminds us that C.S. Lewis had a hard time dealing with the Sermon on the Mount because he said, "Who can like being knocked flat on his face by a sledge hammer? I can hardly imagine a more deadly spiritual condition than that of a man who can read that passage with tranquil pleasure." We are reminded that the Sermon on the Mount could be called "the Christian's job description." That is a challenging and humbling experience. Following this are 12 thought provoking questions. Here are the first four:
Have you ever had a job or a task in which you did not know what was expected of you? How would a job description have helped?
Read Matthew 5. The beatitudes describe the qualities Jesus desires in each of his disciples (Matthew 5:3-12). Give a brief definition of each quality.
What is attractive about the blessings Jesus promises those who have these qualities (Matthew 5:3-12)?
Jesus compares his followers to salt and light (Matthew 5:13-16). What do these metaphors suggest about our role in society?
For over three decades LifeGuide Bible Studies have provided solid biblical content and raised thought-provoking questions—making for a one-of-a-kind Bible study experience for individuals and groups.