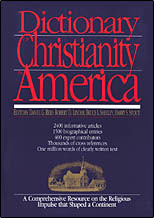 Dictionary of Christianity in America
Highlights
A Christianity Today 1991 Book of the Year!
Thousands of cross-references and valuable bibliographies
Named as one of the 850 Books for Biblical Expositors by the Master's Seminary
Product Details
Perhaps no other single influence has shaped America more than Christianity. Certainly no other single reference book has ever covered this fascinating story so completely.
In just one volume, the Dictionary of Christianity in America does what most libraries cannot. It places at your fingertips the whole spectrum of movements, institutions, denominations, events, individuals and ideas that have influenced American religion and culture. Taking the wraps off the significant role Christianity has played in our history and in our life today, this unique reference work will broaden your understanding and deepen your appreciation of the diverse strands of America's faith.
Distinguished by clear writing and topical organization of articles, the Dictionary of Christianity in America presents a wealth of intriguing religious lore for casual readers. And its comprehensive scope and objective approach--along with valuable bibliographies and cross-references--make it an indispensable companion for students and researchers.
About the Editors
Daniel G. Reid, Ph.D., Fuller Theological Seminary, is senior editor for reference and academic books at InterVarsity Press, where he has worked since 1986. He was the developmental editor for IVP's award-winning New Testament dictionaries, and has also written his own academic studies, including God Is a Warrior, cowritten with Tremper Longman III . Reid also teaches at the Seattle, Washington extension campus of Fuller Theological Seminary.
Robert D. Linder is Distinguished Professor of History at Kansas State University, Manhattan. He is the author or editor of fifteen books, including The History of the Churchand The Long Tragedy: Australian Evangelical Christians and the Great War, 1914-1918.
Bruce L. Shelley earned a Ph.D. from the University of Iowa and received a theological degree from Fuller Seminary. He also attended Columbia Bible College. Dr. Bruce Shelley is the senior professor of church history and historical theology at Denver Seminary. He joined the faculty in 1957.
Dr. Shelley has written or edited over twenty books, including: Church History in Plain Language, All the Saints Adore Thee, The Gospel and the American Dream, Theology of Ordinary People and The Consumer Church. He serves on the editorial advisory board of Christian History and has published numerous articles for magazines and encyclopedias. He is a corresponding editor of Christianity Today and has published articles in Encyclopedia Americana, Evangelical Dictionary of Theology, and New International Dictionary of the Christian Church.
Harry S. Stout received his PhD from Kent State University in 1974. He has published The New England Soul: Preaching and Religious Culture in Colonial New England, George Whitefield, Divine Dramatist and several edited books, including New Directions in American Religious History, with Darryl Hart, Religion in American History: A Reader, with Jon Butler, and Religion and the Civil War. He is the General Editor of the Works of Jonathan Edwards, Yale Press; the Co-Director, with Jon Butler, of the Center for Religion and American Society at Yale.
Stout is currently Professor of History, Religious Studies, and American Studies Jonathan Edwards Professor of American Christianity, at Yale Divinity School. His graduate courses include seminars on American revivalism and Jonathan Edwards.
Endorsements
Finger-tip access to information about movements, organizations, and many names and events that have contributed significantly to Christian thought and life in America.
Christianity has played the largest single role in defining the religious life of America . . . . This comprehensive text of terms, individuals and events that comprise the history of the Christian religion in America is an excellent resource for scholars and laypersons.