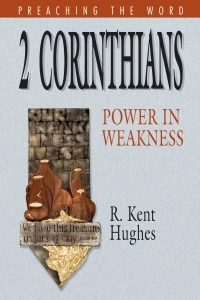 Preaching the Word - 2 Corinthians
Power in Weakness
Highlights
Noted for its commitment to Biblical authority
Clear exposition of scripture
Practical Application
Product Details
During Paul's ministry, Corinth was a newly rebuilt, bustling, important city in the Roman Empire. It was a place full of pride, individualism, wealth, and religious pluralism. No wonder its inhabitants held little regard for Paul's message!
Sound familiar? Our contemporary culture has much in common with ancient Corinth. The relevance of this book to churches today is astounding. Paul delivers powerful theology that turns the values of the ancient Roman world upside-down—the grace of God, the centrality of the cross, and God's power made perfect in weakness. He challenges us to live counter-culturally.
In this commentary on 2 Corinthians, Pastor R. Kent Hughes carefully examines this letter from the apostle Paul to the church in Corinth, continuing to provide rich biblical insight for the body of Christ.
About the Author

R. Kent Hughes, Senior Pastor Emeritus of College Church in Wheaton, Illinois, earned his DMin from Trinity Evangelical Divinity School. He has authored numerous books for Crossway, including a number of volumes in the popular Preaching the Word series. He is also the series editor.
Endorsements
The Preaching the Word Commentary is one of my favorites. The focus upon explaining the text with preaching it as the goal makes the series resonate with the priorities of the pulpit. No academic aloofness here, but down-to-earth, preacher meat for God's people.
The single best resource for faithful biblical exposition today. A great boon for genuine reformation!
Throughout the Christian centuries, from Chrysostom and Augustine through Luther, Calvin, and Matthew Henry, to Martyn Lloyd-Jones and Ray Stedman, working pastors have been proving themselves to be the best of all Bible expositors. Kent Hughes stands in this great tradition, and his exciting expositions uphold it worthily.