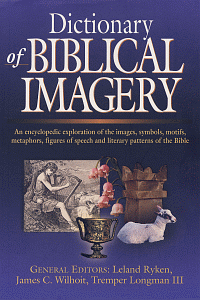 Dictionary of Biblical Imagery
Highlights
Hundreds of articles on images, similes, metaphors and motifs of Scripture
Encyclopedic Scope—Covers Many Topics not Found in Ordinary Bible Dictionaries
Helps Readers Understand the Significance of the Bible's Imagery
1999 Christianity Today Book of the Year
1993 Recipient of Christianity Today's Critics Choice Award
Named by the R. C. Ryan Center for Biblical Studies as One of the Best Tools for
Preaching and Teaching
Named one of the Best 100 Christian Books Ever Written by Frank Viola
Product Details
Why do traditional Bible dictionaries and reference works offer so little help to explorers of the Bible's galaxy of verbal pictures? They excel in describing the climate, borders and location of Galilee or Sinai, but they are often blind to the artistic expressions and deaf to the musical meanings that echo from within the world of the biblical text.
The Dictionary of Biblical Imagery is the first contemporary reference work dedicated to exploring the images, symbols, motifs, metaphors and literary patterns found in the Bible. More than that, it examines the Bible's universal archetypes or master images—including the plot motifs and character types that recur throughout life, literature and the Bible.
This unique dictionary explores the dazzling variety in which the Word of God comes dressed in clothes of everyday life. It traces the trail of images from Eden to the New Jerusalem. It captures the plotted patterns of biblical narrative. It surveys the imaged texture of each book of the Bible. In short, the Dictionary of Biblical Imagery is an inviting, enlightening and indispensable companion to the reading, study, contemplation and enjoyment of the Bible.
About the Editors
Leland Ryken, is a professor of English at Wheaton College in Wheaton, Illinois. He has contributed a number of works to the study of classic literature from the Christian perspective, including editing the comprehensive volume on Christian writing on literature The Christian Imagination. He was the literary stylist for the English Standard Version of the Bible, published in 2001. He is the author of How to Read the Bible as Literature and Words of Delight: A Literary Introduction to the Bible, as well as co-editor of Ryken's Bible Handbook and the ESV Literary Study Bible (with his son, Philip Ryken). He was the literary content contributor to the ESV Study Bible, released in 2008.
James Wilhoit, is Scripture Press Chair of Christian Formation & Ministry at Wheaton College in Wheaton, Illinois. He is the editor/author of several major publications.
Tremper Longman III, B.A., Ohio Wesleyan University; M.Div., Westminster Theological Seminary and M.Phil.; Ph.D, Yale University. Longman is an Old Testament scholar and Robert H. Gundry Professor of Biblical Studies at Westmont College in Santa Barbara, California. Prior to joining Westmont in 1998, Longman taught for eighteen years at Westminster Theological Seminary in Philadelphia. Tremper has authored or coauthored 17 books, including A Biblical History of Israel. He was also one of the main translators of the New Living Translation and has served as a consultant for other well-known Bible translations as well.
Endorsements
People think with pictures in their heads. The Bible is God's picture book even though it is all in words. The Dictionary of Biblical Imagery helps us to see the verbal pictures that we may have missed and then helps us to make sense of them. The Dictionary is a helpful tool for Bible study--and it's even fun to read.