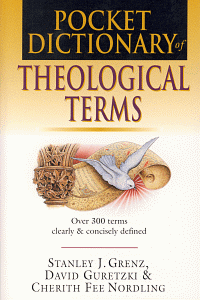 Pocket Dictionary of Theological Terms
Highlights
Defines important theological terms
Identifies major theologians, organizations and traditions
Named as one of the 850 Books for Biblical Expositors by the Master's Seminary
Product Details
Beginning to study theology is like stepping into a conversation that has been going on for two thousand years.
How do you take part in this conversation—or even make sense of it—if you don't understand the vocabulary or know the contributions made by other participants?
The Pocket Dictionary of Theological Terms is the perfect companion to your theological studies. Among its three hundred-plus definitions are:
English terms, from accommodation to wrath of God
Foreign terms, from a posteriori to via media
Theological movements and traditions, from the Alexandrian School to Wesleyanism
Theologians, from Anselm of Canterbury to Ulrich Zwingli
Here is an affordable and easily accessible resource for your theological readings, lectures and writing assignments. It's a must-have for every beginning theological student!
About the Authors
Stanley J. Grenz,(1950-2005), earned his Doctor of Theology degree at University of Munich in Germany. He was ordained to pastoral ministry in 1976. He later worked within the local church context as youth director and assistant pastor at Northwest Baptist Church, Denver, Colorado, 1971-1976, pastor of Rowandale Baptist Church, Winnipeg, Manitoba 1979-1981, and interim pastor on several occasions. He served on many Baptist boards and agencies and also as a consulting editor of Christianity Today.
While in the pastorate Grenz taught courses both at the University of Winnipeg and at Winnipeg Theological Seminary . He served as Professor of Systematic Theology and Christian Ethics at the North American Baptist Seminary, Sioux Falls, South Dakota from 1981-1990. From 1990-2002, Grenz held the position of Pioneer McDonald Professor of Baptist Heritage, Theology and Ethics at Carey Theological College and at Regent College in Vancouver. After a one-year sojourn as Distinguished Professor of Theology at Baylor University and George W. Truett Theological Seminary in Waco, Texas (2002-2003), he returned to Carey in August 2003 to resume his duties as Pioneer McDonald Professor of Theology. In fall 2004, he assumed an additional appointment as Professor of Theological Studies at Mars Hill Graduate School, Seattle, Washington. From 1996 to 1999 he carried an additional appointment as Professor of Theology and Ethics at Northern Baptist Theological Seminary, Lombard, Illinois.
Grenz' primary contributions were made discussing how evangelical Christianity ought to relate to the world. He wrote on a wide range of subjects, from sexuality to history to basic apologetics, and was one of North America's leading evangelical voices in the late 20th century and early 21st century. He was included in two editions of Who's Who in Religion, as well as in the 2002 edition of Who's Who in U.S. Writers, Editors and Poets. Grenz died in his sleep March 11, 2005 from a brain aneurysm.
David Guretzki earned his B.R.E., Briercrest Bible College; M.A., Briercrest Biblical Seminary and Ph.D., McGill University. He is currently Associate Professor of Theology and Dean of the Seminary at Briercrest College & Seminary in Caronport, Saskatchewan, Canada. Previously, he served as an Assistant Pastor in Lacombe, Alberta for three years.
David's theological interests are diverse, though his research and writing has focused on the doctrines of the Trinity and the church, the theology of forgiveness and reconciliation, and the theology of Karl Barth. He serves as a board member of the Evangelical Fellowship of Canada.
Cherith Fee Nordling is currently a Sessional Lecturer at Regent College, Co-Director of Christian Formation for Campus Life at Calvin College, and Visiting Assistant Professor of Systematic Theology at Wheaton College and Visiting faculty at Vineyard Leadership Institute
After graduating from Wheaton in 1981 she was immersed in the community of First Presbyterian Church, San Mateo, Calfornia for 15 years. After almost 15 years in corporate and non-profit law, she started back to school, compelled by questions of human transformation by the Holy Spirit. What does it mean to be conformed into the image of the True Human, Jesus Christ, the divine Son, individually and corporately, joined to the Triune God? This question stayed with her through a Masters in Counseling Psychology, an MCS in theology at Regent and a PhD at St. Andrews in the United Kindom.