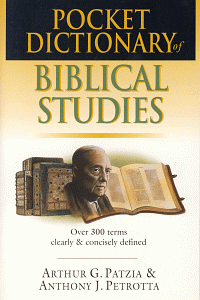 Pocket Dictionary of Biblical Studies
Highlights
Types of biblical criticism, from genre criticism to tradition
criticism
Greek and Latin terms, from agrapha to vaticinium ex eventu
German terms, from Frühkatholizismus to Wissenschaft
Ancient texts, from Aleppo Codex to Zadokite Document
Literary features, from acrostic to woe oracle
Theories, from the Augustinian hypothesis to the Yahwist source
Textual criticism terms, from codex to Western text
Product Details
So many words about the Word. The study of anything seems to generate its own special vocabulary, and biblical studies is no different. What's more, it's got nearly a two-thousand-year lead on you! How can you catch up? Here is the answer!
If you are puzzled by parataxis or rankled by recensions, the Pocket Dictionary of Biblical Studies is the companion you need. Whether you are studying Old Testament or New Testament or both at once, this little book is your private tutor, your ever-ready guide to over three hundred biblical-studies terms. Here's your glossary for reading course textbooks, your decoder for listening to lectures, your review sheet for cramming for finals and your "help" key for writing research papers.
About the Authors
Arthur G. Patzia earned his BA, University of Manitoba; BD, North American Baptist Seminary; ThM, Princeton Theological Seminary and PhD, McMaster University. Patzia is a distinguished scholar, having authored numerous publications in New Testament studies including the commentary Ephesians, Colossians, Philemon; The Making of the New Testament, also translated into Greek and Korean; The Emergence of the Church; Pocket Dictionary of Biblical Terms with A. Petrotta, also translated into Portuguese, Dutch, Romanian, and Russian; and numerous articles in Biblical dictionaries.
Arthur Patzia is senior professor of New Testament, having served primarily at Fuller Northern California. He has been at Fuller since 1985, and served as director, academic director, and professor of New Testament at Fuller Northern California from 1985-2002. He retired from active teaching in 2007 and now resides in Pasadena, continuing to teach as an adjunct for Fuller in Pasadena and at other regional campuses.
Anthony J. Petrotta grew up in California. He received his B.A. from Westmont College, Santa Barbara; his M.A. from Fuller Seminary, Pasadena and his Ph.D. from University of Sheffield, England and was on the faculty of the University of St. Andrews, Scotland. He served as assistant rector at St. Paul's Episcopal Church in Benicia, California. While at St. Paul's, he was also an adjunct associate professor of Old Testament at Fuller Theological Seminary in Menlo Park, California. He is an Episcopal priest and since 2005 has served as Rector of St. Francis of Assisi Church, Wilsonville, Oregon. He has a heart for all ages asking and exploring what it means to be disciples, followers of Jesus Christ in our culture today.