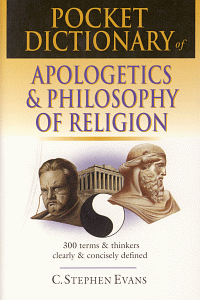 Pocket Dictionary of Apologetics & Philosophy of Religion
Highlights
An essential companion to the study of apologetics and philosophy of religion
A - to - Z entries on terms, apologists, philosophers, movements, apologetic arguments and theologies
Product Details
For philosophers, the pursuit of truth travels on precise definitions. For Christian apologists, the defense of the faith is founded on the defining Word. And for beginning students of either discipline, the difference between success and frustration begins with understanding the terms and ideas and identifying the thinkers and movements.
The Pocket Dictionary of Apologetics & Philosophy of Religion is designed to be a companion to your study of these two related disciplines. Among its 300 definitions are:
Terms, from a posteriori to worldview
Apologists, from Abelard to Van Til
Philosophers of religion, from Alston to Wolterstorff
Movements, from analytic philosophy to voluntarism
Apologetic arguments, from the cosmological to the wager
Theologies, from Arminianism to Zoroastrianism
Here is an affordable and easily accessible "help key" for your readings, lectures, writing assignments and exam preparation. It's a must-have study aid for any student who expects to cogitate on coherentism or ruminate on Ricouer.
About the Author
C. Stephen Evans was born in Atlanta, Georgia. Evans received his Bachelor's degree from Wheaton College in 1969 and his Ph.D. from Yale University in philosophy in 1974 as a Danforth Fellow. He is currently University Professor of Philosophy and Humanities at Baylor University. Prior to coming to Baylor Evans taught at Wheaton College (1974-84), St. Olaf College (1984-94), where he served as Curator of the Howard and Edna Hong Kierkegaard Library as well as being a member of the Philosophy Department, and at Calvin College (1994-2001), where, besides teaching philosophy, he served three years as Dean for Research and Scholarship and was the inaugural holder of the William Spoelhof Teacher-Scholar Chair, the first endowed chair at Calvin.
His published works include 14 single-authored books as well as five edited volumes. Nine of these books are with university presses or secular, scholarly presses. The remainder are scholarly books for religious publishing houses. His scholarly books include Kierkegaard's Ethic of Love: Divine Commands and Moral Obligations, The Historical Christ and the Jesus of Faith: The Incarnational Narrative as History and Passionate Reason: Making Sense of Kierkegaard's Philosophical Fragments. More popular recent works include: Why Believe?.
Evans has made over 100 professional presentations, including many named, endowed lectureships. He has received two Fellowships from the National Endowment for the Humanities and a major grant from the Pew Charitable Trusts. He is a past president of the Society of Christian Philosophers and the Søren Kierkegaard Society. Evans is a member of Calvary Baptist Church in Waco, Texas.