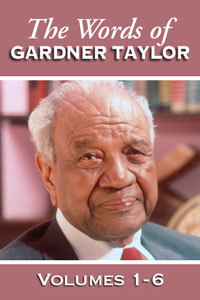 The Words of Gardner Taylor, Volumes 1-6
Highlights
Volume 1: NBC Radio Sermons, 1959-1970
Volume 2: Sermons from the Middle Years, 1970-1980
Volume 3: Quintessential Classics, 1980-Present
Volume 4: Special Occasion and Expository Sermons
Volume 5: Lectures, Essays, and Interviews
Volume 6: 50 Years of Timeless Treasures
Product Details
About the Author
Dr. Gardner Calvin Taylor was born in 1918 in Baton Rouge, the grandson of former slaves, and grew up in the segregated South of the early 20th century. He graduated from the Oberlin College School of Theology in 1940, and began a lifetime of preaching and civil rights activism.
Taylor was pastor of the Concord Baptist Church of Christ in Brooklyn, New York for 42 years, before retiring in 1990. Taylor was a close friend and mentor to Martin Luther King Jr. and played a prominent role in the religious leadership of the Civil Rights Movement of the 1960s. Taylor helped to found the Progressive National Baptist Convention with Martin Luther.
Dr. Gardner Calvin Taylor is noted for his eloquence and deep understanding of Christian faith and theology and is known as "the dean of American preaching". Taylor received the Presidential Medal of Freedom on August 9, 2000, which was awarded to him by former President Bill Clinton.
Endorsements
An extraordinary, comprehensive six-volume set of sermons and other writings that span Taylor's remarkable 50-year ministry. Taylor's eloquence is just as alive on paper as it is through an old-fashioned 'land-line' phone. Through timeless messages of truth, hope, love and God's inextricable relationship with humanity, Taylor loyalists and new converts seize a front-row seat to some of history's most dramatic moments. Taylor's life experiences and world events weave their way into a social, political and spiritual chronicle.
Gardner Taylor is "the pulpit king."
For at least 20 years now, if anyone made a list of the five or six greatest preachers in America, Gardner Taylor would always be at the top.
One of the twelve greatest preachers in the English-speaking world.