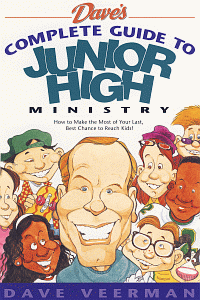 Dave's Complete Guide to Junior High Ministry
How to Make the Most of Your Last, Best Chance to Reach Kids!
Highlights
Practical ideas for planning a ministry
Communicating the Gospel
Teaching discipline, and more
Product Details
It's not enough to merely teach a class—today's junior high leaders must reach into the lives of their students with effective, practical tools for following Jesus. This book lays everything out in easy, thought-out steps that will enable any youth leader to take junior high ministry to the next level. Drawing on more than 35 years of personal experience, Dave Veerman offers a wealth of solid, time-tested advice that will make reaching the often forgotten "tweenagers" not only possible, but enjoyable! End of the chapter discussion questions allow the opportunity for personal application of the concepts or for group training.
About the Author
Dave Veerman worked for twenty-six years with Youth for Christ before forming The Livingstone Corporation in 1988 with Bruce Barton, a company devoted to helping Christians and Christian organizations improve ministry effectiveness. He served as a senior editor of the Life Application Bible and has written nearly forty books, including Understanding Your Teenager, Tough Parents for Tough Times, Parenting Passages, and Dads That Make a Difference. He currently presents Understanding Your Teenager seminars across the country. Dave holds a M.Div from Trinity Evangelical Divinity School.