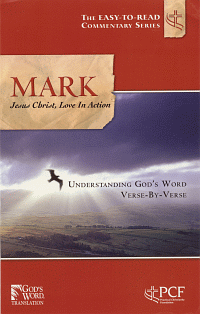 Easy-To-Read Commentary: Mark
Jesus Christ, Love in Action
Product Details
This is no meek and mild Jesus...
In the Gospel of Mark, the Messiah is portrayed as energetic and tireless as He proceeds from event to event, constantly revealing physical evidence of His position as both Son of Man and Son of God. Mark relates fewer of Christ's many sermons and discourses than the other Gospels and instead focuses on the Lord's actions as He heals the sick, casts out demons, and confronts His opponents. This practical and scholarly study of Mark's gospel is full of the drama and urgency that accompanied Christ's time on earth.
Endorsements
PCF's devotional on the second Gospel, the book of Mark, is most helpful in its practical and scholarly coverage in a verse-by-verse study, coupled with thoughtful insights. Written in a conversational manner, it gives the reader a flowing and refreshing review of the life of Christ. Thank you for this great contribution to the building up of the Body of Christ.