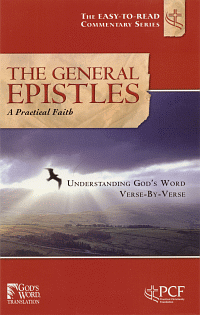 Easy-To-Read Commentary: The General Epistles
A Practical Faith
Product Details
Letters written to Christians fleeing persecution at the hands of violent oppressors and to believers throughout the ages...
Apostles of the Lord—eyewitnesses of the Messiah's countless miracles and recipients of His life-giving wisdom—call out to all brothers and sisters of the faith, encouraging them to guard closely the fellowship and to express their faith through good works, imploring them to beware of those seeking to deceive them and undermine their beliefs.
No matter the intensity of the persecution, no matter the apparent hopelessness of the plight, believers are urged, above all, to "contend for the faith" and to "count it all joy" for the cause of the One Who has bought their salvation.