Future Church
Ministry In A Post-seeker Age
Author: Jim L. Wilson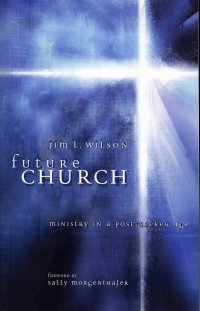 Product Details
The church today is poised on a precarious balance between culture and content, between cultural relevance and doctrinal integrity. Like a seesaw, the church swings back and forth, compelled both to reach an entertainment-driven culture and to remain true to the Gospel.
In Future Church, Jim Wilson presents 7 clear principles which become "fulcrum points," principles that will give the Church real leverage to reach people and push them upward toward the hand of God. These 7 Fulcrum Points are illustrated in real-life settings, as Wilson takes us on visits to churches that are utilizing them. This is the way of ministry in a post-seeker age. This is Future Church!
The seven Fulcrum points include:
Get creative, Get Spiritual, Get Radical, Get Real, Get Truthful, Get Multi and Get Connected.
About the Author
Dr. James L Wilson is an award winning writer with hundreds of pieces in print in 60+ publications including some published by Christianity Today, Inc., Focus on the Family, and Lifeway Christian Resources.
Pastor Jim graduated from Wayland Baptist University with a B.A. in Religion & Speech in 1981 and from Golden Gate Baptist Theological Seminary with a Master of Divinity in 1985 and a Doctor of Ministry Degree in 1991.
Critical Reviews
We are at a critical time period in church history, where we must rethinking about everything we have presupposed in our modern philosophy and methodology to reach post-seeker generations. Jim gives a portrait of the rising landscape that is forming the "future church".
Jim Wilson has found unmistakable signs of vigor, innovation, and genuine faith in congregations from coast to coast.
Future Church instructs and illuminates without being pedantic. A comfortable conversation that instructs and points in a right ministry direction.