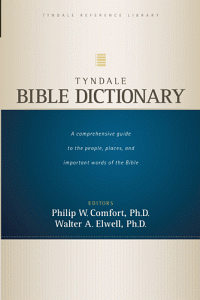 Tyndale Bible Dictionary
This title works with the following Wordsearch products
Desktop
Highlights
Over 1,000 informative articles on every Bible topic imaginable—from Aaron to the Wilderness of Zin
Over 200 illustrations and photos to help you picture Bible people and Bible times
A full-color map set to help you explore the land of ancient Israel
Product Details
Do You Have Questions about the Bible?
The Tyndale Bible Dictionary provides the answers you're looking for. It's one Bible resource you'll want to keep handy and reach for it every time you have a question about the Bible, and you'll find your answer in a flash!
Do You Want to Know More about the Bible?
The articles in the Tyndale Bible Dictionary orient your thinking to virtually every Bible topic—whether it's a discussion of the Ark of the Covenant or Noah's Ark.
Do You Need Answers Fast?
With the Tyndale Bible Dictionary, you'll never feel lost again. You'll know where to look first for solid answers. With its comprehensive articles, hundreds of images, and thousands of cross-references, your answers are mere seconds away!
About the Editors
Walter A. Elwell was born April 29, 1937, in Miami, Florida. He earned a B.A. and M.A. from Wheaton College. Elwell then attended the University of Chicago and University of Tubingen before earning his Ph.D. from the University of Edinburgh. He's been an instructor in Greek at North Park College in Chicago, Illinois, and a professor of Bible at Belhaven College in Jackson, Mississippi; and currently serves as professor of biblical studies and dean of the graduate school at his Alma Mater, Wheaton College. He's also a consultant to both the Evangelical Christian Publishers Association and the Evangelical Book Club, and a member of the Society of Biblical Literature, Institute for Biblical Research, Evangelical Theological Society, Midwest Association of Graduate Deans, and Chicago Society of Biblical Research.
Elwell's strong writing and editing skills have produced such significant reference works as Evangelical Dictionary of Theology, Encountering the New Testament, Readings from the First-Century World, Topical Analysis of the Bible, Evangelical Dictionary of Biblical Theology, The Concise Dictionary of the Christian Tradition, Evangelical Commentary on the Bible, and Baker Encyclopedia of the Bible.
Philip Wesley Comfort earned his doctoral degree from the University of South Africa. He has studied English literature, Greek, and New Testament at the Ohio State University and the University of South Africa. He has taught these classes at a number of colleges, including Wheaton College, Trinity Episcopal Seminary, Columbia International University, and Coastal Carolina University. He is currently senior editor of Bible reference at Tyndale and served as New Testament editor for the New Living Translation. He has contributed a number of books to the Tyndale collection, both as author and editor. Among these are The New Greek-English Interlinear New Testament, The Origin of the Bible, Essential Guide to Bible Versions, The Text of the Earliest New Testament Greek Manuscripts and Who's Who in Christian History.