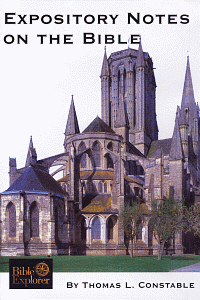 Tom Constable's Notes on the Bible
This title works with the following Wordsearch products
Desktop
Highlights
Complete in-depth Bible commentary, spans over 7,000 pages
Written over a twenty year period
Based on the New American Standard Bible
Product Details
These Bible study notes are some of the most comprehensible that you may find anywhere to help you study God's word. Written by Dr. Constable over a twenty-year period, these notes span over seven thousand pages and clearly explain all sixty-six books of the Bible. Also known as Expository Notes to Dr. Constable's Seminary Students, these Bible study notes will be an invaluable addition to your electronic library.
In addition to the verse-by-verse explanations of the entire Bible, extra resources include historical background, scope, purpose, theology, and outline information on the individual books. Thousands of footnote references are a helpful source for further, more in-depth study.
About the Author
Dr. Thomas L. Constable is the Department Chairman and Senior Professor of Bible Exposition at Dallas Theological Seminary in Dallas, Texas. Dr. Constable earned his B.A. at Moody Bible Institute, 1960; Wheaton College, 1962; Th.M., Dallas Theological Seminary, 1966; Th.D., 1969. Dr. Constable is the founder of Dallas Seminary's Field Education department (1970) and the Center for Biblical Studies (1973), both of which he directed for many years before assuming other responsibilities. Today Dr. Constable maintains an active academic, pulpit supply, and conference-speaking ministry around the world. He has ministered in nearly three dozen countries and written commentaries on every book of the Bible. Dr. Constable also founded a church, pastored it for 12 years, and has served as one of its elders for over 30 years.