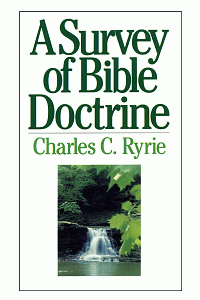 A Survey of Bible Doctrine
Product Details
This is a book on Bible doctrine. We could be devious and call it by some other name like 'Knowledge You Need' or 'Truth's For Today'. But why? The word doctrine is a perfectly good word that simply means 'teaching' and teaching is not yet in disrepute (though studying sometimes seems to be!). So let's call this book what it is — a book that will try to help you understand what the Bible teaches.
Dr. Charles Ryrie offers an easy-to-understand overview of the various doctrines of the Bible. It is written especially for the layman who simply wants to understand what the Bible teaches. The topics covered include the importance of doctrine, what doctrine is, what God is like, the inspiration of the Bible, Christ, the Holy Spirit, the angelic world, the nature and depravity of man, salvation, the church, and what the future holds.
About the Author
Charles Caldwell Ryrie (A.B. Haverford College; Th.M, Th.D, Dallas Theological seminary; Ph.D.,University of Edinburgh; Litt.D., Liberty Baptist Theological Seminary) is professor-emeritus at Dallas Theological Seminary and Distinguished Professor at Philadelphia College of Bible. He is annotator of the Ryrie Study Bible, Expanded Edition and author of many books, including Balancing the Christian life, Basic Theology, and The Holy Spirit.