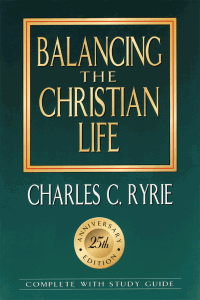 Balancing the Christian Life
25th Anniversary Edition
Product Details
Genuine And Wholesome Spirituality
This is the goal of all Christian living. It sounds so simple, doesn't it? Perhaps the principle may be, but living by the principle is another matter altogether.
In Balancing the Christian Life, Dr. Charles Ryrie reminds you that "the Bible must be the guide and test of all our experiences in the spiritual life... and if any experience fails to pass that test, it must be discarded." He warns that "an unbalanced application of the doctrines related to spirituality will result in an unbalanced Christian life."
Ryrie examines numerous key issues of spirituality, including
The old and the new life
Sanctification
Using your gifts
Routine faithfulness
Wiles of the Devil
Temptation
Confession and forgiving
For more than 25 years, "Balancing the Christian Life" has been changing lives worldwide. Take time to read this classic study — and allow it to change yours.
An extensive new study guide will help you understand and apply these principles to your life.
About the Author
Charles C. Ryrie (A.B. Haverford College; Th.M, Th.D, Dallas Theological seminary; Ph.D.,University of Edinburgh; Litt.D., Liberty Baptist Theological Seminary) is professor-emeritus at Dallas Theological Seminary and Distinguished Professor at Philadelphia College of Bible. He is annotator of the Ryrie Study Bible, Expanded Edition and author of many books, including Balancing the Christian life, Basic Theology, and The Holy Spirit.
Endorsements
Expounds on the Scriptures after first developing a theology based upon exegesis. Then discusses such issues as the filing of the Holy Spirit, confession of sin, speaking in tongues, the ever present problem of legalism, and the lordship of Christ.