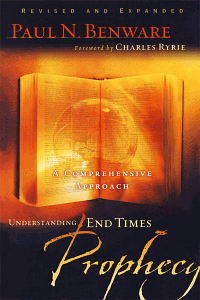 Understanding End Times Prophecy
A Comprehensive Approach
Product Details
The author of Revelation prefaced his vision with the encouragement that the person who knows prophetic truths—and orders his life according to those truths—will live better now. The study of Bible prophecy:
reminds us that God is sovereign.
reminds us that God is good.
motivates us to holy living.
helps us establish proper priorities.
gives us hope.
Paul Beware has these benefits in mind in this revised and expanded edition of his classic book. In this new edition, he addresses the confusion and conflict surrounding the topic of prophecy, provides a biblical framework to clarify different interpretations—including pre-, a-, and postmillennialism, and includes an entire chapter on preterism. He also provides insight that can help you understand how these different explanations of Scripture have the power to shape your faith and offers tools to help you develop discernment.
About the Author
Paul N. Benware earned his Th.M. at Dallas Theological Seminary and his Th.D. at Grace Theological Seminary. Benware was also a professor in the Biblical Studies Division at the Philadelphia Biblical University. He is currently an adjunct Professor at Southwestern College in Phoenix, Arizona. Dr. Benware also wrote Survey of the Old Testament, Survey of the New Testament and The Believer's Payday. He and his wife are planning their third tour of Israel in May of 2010.
Endorsements
This book is a remarkably readable, clear, concise, and yet comprehensive discussion of future events. It is the best volume of its kind on the subject — whether for individual study, group discussion, or as a course text.