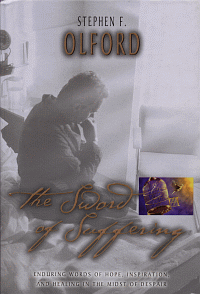 The Sword of Suffering
Enduring Words of Hope, Inspiration, and Healing in the Midst of Despair
Highlights
Explains the premise that suffering helps us conform to the image of Christ
Product Details
Stephen Olford's most personal book, The Sword of Suffering, details his struggle with lymphoma cancer and the answers he found in "the valley of the shadow of death." Filled with instances of how the Scriptures became more real and precious to him through his ordeal, the book throbs with the heartbeat of a man liberated by the fires of God's mysterious, wonderful grace.
About the Author

Stephen F. Olford was born in Zambia and was raised in Angola, where he committed his life to Christ and witnessed first-hand the transforming power of God and His Word. He spent his college years in the United Kingdom. After receiving ministry training, Dr. Olford was appointed an Army Scripture Reader during Word War II, and he launched a Young Peoples Christian fellowship in Newport, South Wales.
In 1953, Dr. Olford's years of pastoral ministry began by serving the Duke Street Baptist Church in Richmond, Surrey England, 1953-1959 and then the Calvary Baptist Church in New York City, 1959-1973. He pioneered a Christian TV program, Encounter, in New York, and his Sunday morning services were broadcast around the world on radio.
Dr. Olford moved to Memphis, Tennessee in 1985 to develop a training program and Center to encourage and equip preachers and teachers of God's Word. In 1988 the Stephen Olford Center for Biblical Preaching was dedicated, and it remains the headquarters of Olford Ministries International.
Dr. Olford has received numerous awards, honorary degrees and distinctions. As an ordained Baptist minister and a conservative evangelical by conviction, he ministered across many denominational, cultural, and racial lines. Besides his extensive preaching ministry. He authored numerous books, booklets, and preaching resources. Dr. Olford passed away in the fall of 2004.
Endorsements
From the depths of his own personal experience, my longtime friend Stephen Olford has written the Sword of Suffering for anyone looking for solace from the pain and anxiety of suffering.