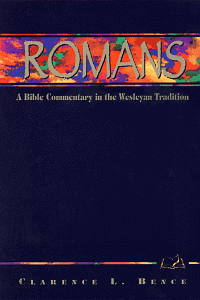 Romans: A Bible Commentary in the Wesleyan Tradition
Highlights
A Commentary in the Wesleyan Tradition
Based on the New International Version
Product Details
Romans: A Bible Commentary in the Wesleyan Tradition is part of a commentary series that interprets the books of the Bible from a Wesleyan perspective. While is is designed primarily with lay people in mind—Sunday school teachers, Bible study leaders, students of the Word—pastors will also find it most helpful. Following the New International Version, each book of the Bible is explained paragraph by paragraph, illuminating the key concepts of each passage and how they relate to our life and times today. This series offers insight into the Scripture that brings greater understanding of what the Bible says, its significance for our lives today, and further transformation into the images of Christ.
About the Author
Dr. Clarence Bence is currently Professor of Historical Theology at Indiana Wesleyan University. Dr. Bence spent his childhood in upstate New York, where his father pastored a Wesleyan Church and served as District Superintendent. After studies at Houghton College and Asbury Seminary, Dr. Bence pastored a Wesleyan Church in Rochester, New York, where he developed a large youth program and church open to the "Jesus Movement" of the early 1970's. After five years of pastoring, he entered the doctoral program at Emory University in Atlanta, Georgia, where his studies centered on an in-depth analysis of the theology of John Wesley.
For the past 20 years, Dr. Bence has devoted himself to teaching in Wesleyan colleges -- first at United Wesleyan College in Allentown, then at Indiana Wesleyan University (since 1982). He did take five years out to serve as Academic Dean at Houghton College, but since 1992 he has been the church history professor at IWU.