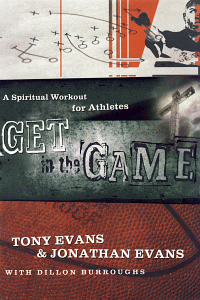 Get in the Game
A Spiritual Workout for Athletes
Product Details
Regardless of your sport, whether football, baseball, swimming, volleyball, or hockey, one thing remains the same — to win, you must get in the game. No amount of practice or preparation provides victory without the moment of truth when the plays on paper become the collisions and jolts on the field. While this may seem obvious to an athlete, many of them miss the critical spiritual parallel their sport represents. Too many Christian athletes are content to be on the team or watch as a fan rather than get in the game of living out an authentic Christian faith.
About the Authors

Tony Evans is co-founder and Senior Pastor of the 7,500 member Oak Cliff Bible Fellowship in Dallas, Texas. In 1976, Dr. and Mrs. Evans started OCBF with a Bible study of 10 people in their home. Under Dr. Evans' leadership, OCBF today has over 100 ministries.
In 1985, Dr. Evans established Project Turn•Around to serve as the social outreach arm of Oak Cliff Bible Fellowship, offering urban youth and families an array of services that address their social, health, economic and education needs.
He is also founder and president of The Urban Alternative, a national organization that seeks to bring about spiritual and family renewal in urban America through the church. The Urban Alternative radio broadcast, "The Alternative with Dr. Tony Evans" can be heard on over 600 stations daily throughout the U.S. and in over 40 countries worldwide, as well as being seen on television on several major networks and in 100 countries around the world. He is a speaker on the Promise Keepers' platform as well as at crusades and Bible conferences in the United States and abroad.
Dr. Evans was the first black American to earn a doctorate in Theology from Dallas Theological Seminary. He has served as an associate evangelist with the Grand Old Gospel Fellowship in Philadelphia, Pennsylvania. He helped organize and served as Vice President of Urban Evangelical Mission. His professional background also includes serving as an associate professor in the Pastoral Ministries Department of Dallas Theological Seminary in the areas of evangelism, homiletics, and black church studies. He is the former chaplain of the NFL's Dallas Cowboys and presently serves as chaplain for the NBA's Dallas Mavericks.
Dr. Evans is the author of many books, including
Free at Last, The Battle is the Lord's, Our God Is Awesome, Returning to Your First Love, The Promise, Who is this King of Glory?, What Matters Most
and
The Best Is Yet To Come.
Jonathan Evans, the son of Tony Evans is a fullback for the Washington Redskins. He is a former standout fullback for Baylor University. A frequent speaker, Jonathan is committed to developing the next generation of devoted Christian athletes.
Endorsements
This book is a great resource to help you become the athlete and teammate God designed you to be.
This book is a book of life that talks about not only my athletic life but also my spiritual life, which is the most important thing.
Athletes who want to expand and grow in their faith will benefit from reading Pastor Evans' book...
In Get in the Game my good friend Tony Evans and his son Jonathan have given us an excellent spiritual conditioning program to enable athletes to live a victorious Christian life.