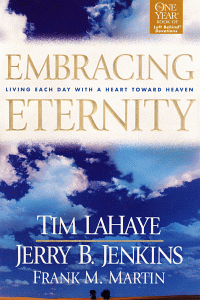 Embracing Eternity
Living Each Day With a Heart Toward Heaven
Highlights
365 Day Devotional based on the Best Selling Left-Behind Series
Product Details
What does it mean to embrace eternity? It means grasping each breath as if it could be your last, living life moment by precious moment with your feet planted firmly on earth but your heart aimed squarely at heaven. It means learning to embrace the role of dual citizenship—living in one world while belonging to another. It is a lifestyle of living like there's no tomorrow and then dying so that your real life can finally begin!
This 365-day devotional explores the themes introduced in the Left Behind series—themes of salvation, grace, obedience, and faith. New believers as well as mature believers will find a message of faith that will inspire and motivate daily.
About the Authors
Tim Lahaye pastored Shadow Mountain Community Church in San Diego, California for 25 years. It was during this time he also founded two accredited Christian high schools, a school system of 10 Christian schools, San Diego Christian College and assisted Dr. Henry Morris in the founding of the Institute for Creation Research, the nation's foremost exponent of creationist materials.
LaHaye has written more than 60 non-fiction books on a wide range of subjects such as: family life, temperaments, sexual adjustment, Bible prophecy, the will of God, Jesus Christ, and secular humanism with over 14 million in print, some of which have been translated into thirty-two foreign languages. His writings are best noted for their easy-to-understand and scripturally based application of biblical principles that assist in facing and handling the challenges of life.
The
Left Behind
fiction series, co-authored with Jerry B. Jenkins, have broken all publishing records with a total of 80 million in print. These books have appeared on the best-seller lists of The New York Times, USA Today, Wall Street Journal, Publishers Weekly, and Christian Booksellers Association.
LaHaye holds a Doctor of Ministry degree from Western Theological Seminary and the Doctor of Literature degree from Liberty University. He and his wife Beverly, who is chairman of the board and founder of Concerned Women for America, have been married for over 60 years and live in southern California.
Jerry B. Jenkins, former editor of Moody Magazine, vice president for publishing, and now chairman of the board of trustees for the Moody Bible Institute of Chicago, is the author of more than 175 books, including the 70,000,000-selling Left Behind series. Jerry has been awarded honorary doctorates from Bethel College , Trinity International University, Colorado Christian University, and Huntington University.
Jenkins's writing has appeared in Time, Reader's Digest, Parade, Guideposts, and dozens of Christian periodicals. He also serves as contributing editor to Writer's Digest.
Frank M. Martin is the author or co-author of over fifteen books, including the recently released Furious Pursuit: Why God Will Never Let You Go. He presently serves as director of Furious Faith Ministries, a writing and teaching ministry located in Colorado Springs, Colorado.
His books include, The Kid-Friendly Dad, War In The Pews, Heart of a Golfer, with Wally Armstrong, One Holy Fire, with Nicky Cruz, Soul Obsession, also with Nicky Cruz, and Emily's Bracelet, written with his daughter, Kandilyn. Emily's Bracelet was a 2005 Gold Medallion Award finalist.
Frank has written for numerous Christian trade publications, including Discipleship Journal, Marriage Partnership, Evangelizing Today's Child, UpReach, Image, One Voice and Pray magazines.
Frank is founder and director of Be The Parents Family Ministry, a "No-Nonsense" Parenting resource center based in Colorado Springs, Colorado. Be The Parents is a family teaching and speaking ministry dedicated to preserving and strengthening the family unit. He has also served the past ten years as a Family Commentary writer for Focus on the Family, writing radio and television commentaries for Dr. James Dobson, Dr. Walt Larimore, and Dr. Bill Maier.