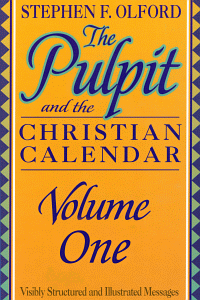 The Pulpit and the Christian Calendar
Volumes 1-3
Product Details
Our Christian calendar year is trinitarian; hence, we have New Year with its suggestions of "beginnings," and God the Father as Creator and Originator of all things. Then we have the Lenten period, Good Friday, and Easter Sunday with its reminders of God the Son as Redeemer and risen Lord. This is followed by Whitsun (or Pentecost) when we think of God the Holy Spirit in all the wonder of his power and blessing. Finally, we come to Christmas with its emphasis on the incarnation and the glory of our Immanuel. In between these periods we have, in our American culture, Sundays that honor mothers, fathers, labor, veterans, and so on. While our ministry cannot be bound by or restricted to these seasonal occasions, we must use what Olford has called "sanctified sensitivity" and adapt accordingly.
Volume 1
This first volume of Stephen Olford's sermons for "significant days" covers New Year's, Easter, Mother's Day, Labor Day, Missions Sunday, Thanksgiving and Christmas. A brief introduction, short exposition of the text, and conclusion are accompanied by illustrations and amplifications. Each element is marked so passages can be adapted to any occasion and homiletic style.
Volume 2
This second volume of Stephen Olford's sermons offers Thirteen messages by Dr. Stephen Olford, just for Christmas and Easter. For Easter, Christ's words from the cross call out forgiveness, assurance, affection, anguish, agony, triumph and confidence. A Christmas series reflects God in Christ from Isaiah 9:1-7. In each message, a brief introduction, short exposition of the text, and conclusion are accompanied by illustrations and amplifications.
Volume 3
This third volume of Stephen Olford's sermons offers messages from New Year's Sunday through Thanksgiving, the seven sermons in part I bring lively Bible exposition to the holidays. Part 2 tackles special occasions, such as a baptism service, a missions challenge, and five messages for youth Sunday. Pastors, evangelists and Bible study leaders will find this collection a fresh resource for message preparation. Every element is marked so messages can be adapted to any occasion and homiletic style.
About the Author

Stephen F. Olford was born in Zambia and was raised in Angola, where he committed his life to Christ and witnessed first-hand the transforming power of God and His Word. He spent his college years in the United Kingdom. After receiving ministry training, Dr. Olford was appointed an Army Scripture Reader during Word War II, and he launched a Young Peoples Christian fellowship in Newport, South Wales.
In 1953, Dr. Olford's years of pastoral ministry began by serving the Duke Street Baptist Church in Richmond, Surrey England, 1953-1959 and then the Calvary Baptist Church in New York City, 1959-1973. He pioneered a Christian TV program, Encounter, in New York, and his Sunday morning services were broadcast around the world on radio.
Dr. Olford moved to Memphis, Tennessee in 1985 to develop a training program and Center to encourage and equip preachers and teachers of God's Word. In 1988 the Stephen Olford Center for Biblical Preaching was dedicated, and it remains the headquarters of Olford Ministries International.
Dr. Olford has received numerous awards, honorary degrees and distinctions. As an ordained Baptist minister and a conservative evangelical by conviction, he ministered across many denominational, cultural, and racial lines. Besides his extensive preaching ministry. He authored numerous books, booklets, and preaching resources. Dr. Olford passed away in the fall of 2004.
Endorsements
Stephen Olford has not only spent his life preaching beautiful expository sermons, he is a peerless teacher of preachers.
Stephen Olford is a master expositor and genius at outline clarity.... Most preachers can neither walk across the street or travel across the continent to hear him. I heartily commend this resource.
Every informed preacher of the Word of God knows of the spiritual power, impeccable scholarship, and practicality of the materials produced by Stephen Olford.