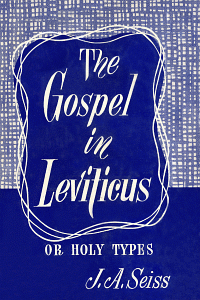 The Gospel in Leviticus
Or Holy Types
Product Details
Every book of the Old Testament points forward to Christ. This is especially true of the book of Leviticus. Christ is the Great High Priest—and the book of Leviticus describes the office of the High Priest, a type of Christ.
That is why Dr. Seiss' scholarly treatment of the teachings of this book should be read by every alert Christian. He gives the symbolism of the book of Leviticus new meaning, presenting the Gospel truths of this book in an inspiring way.
Among the various phases of the priestly office which he discusses are:
The Burnt Offering
the Meat Offering
The Peace Offering
The Sin and Trespass Offerings
The Consecration of the Priest
The Day of Atonement
Personal Requirements of the Priests
and other vital Old Testament teachings as they relate to the priest and sanctuary.
About the Author
Joseph Augustus Seiss was born near Graceham, Maryland in 1823. Seiss studied for the ministry at Gettysburg College from 1839-1841. He was ordained a Lutheran pastor in 1842. After serving congregations in Virginia and Maryland, he moved to St. Joesph's church in Philadelphia, Pennsylvania. He became pastor of the Church of Holy Communion in Philadelphia in 1874 . He also served as president of the Pennsylvania Ministerium and helped found the General Council of the Evangelical Lutheran Church.
He edited the Prophetic Times, a monthly newsletter from 1863-75, was joint editor of The Lutheran, 1860-61 and the Lutheran and Missionary, 1861-73, and was editor of the latter from 1873-79. Also, from 1864-1865, he traveled in Europe and the East. He was one of the most eloquent preachers in the country, possessing a style that was clear, ornate, and forceful. In addition to his pastoral duties, he was an active lecturer and author of more than a dozen works.
Endorsements
The Lectures of Dr. Seiss have homiletic value and a literary charm, to say nothing of their doctrinal teaching, that ought to give them a prominent place in every student's library.