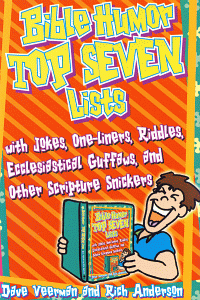 Bible Humor Top Seven Lists
with Jokes, One-Liners, Riddles, Ecclesiastical Guffaws, and Other Scripture Snickers
Product Details
The Top Seven Reasons to buy a Book on Bible Humor:
7. You're Related to the Authors.
6. Money is burning a hole in your pocket.
5. You are conducting a heresy trial and need advice.
4. Your spouse says you don't read enough.
3. You're beginning a career in stand-up comedy and need material.
2. You have difficulty sleeping.
1. You need a doorstop.
And if you're still not convinced, then inside this seriously funny un-commentary you will find the top seven lists of:
Recently Discovered Biblical Business
Pet Peeves of Noah
Favorite Christmas Gifts for Bible Characters
Biblical Fitness Videos
Stand By Plagues not inflicted on Egypt
If you aren't careful, you may learn a few things about the Bible as you laugh your way through the puns, limericks, stories, and jokes told in Bible Humor Top Seven Lists.
About the Authors

Dave Veerman worked for twenty-six years with Youth for Christ before forming The Livingstone Corporation in 1988 with Bruce Barton, a company devoted to helping Christians and Christian organizations improve ministry effectiveness. He served as a senior editor of the Life Application Bible and has written nearly forty books, including Understanding Your Teenager, Tough Parents for Tough Times, Parenting Passages, and Dads That Make a Difference. He currently presents Understanding Your Teenager seminars across the country. Dave holds a M.Div from Trinity Evangelical Divinity School.
Rich Anderson has been in full-time Christian service since graduating from Wheaton College and the Wheaton Graduate School over 20 years ago with his M.A. in communication. His ministry has primarily been that of an announcer and manager of various Christian radio stations in the Midwest. For the past ten years Rich has been passionate about taking teams of his radio listeners on mission trips. He's led groups to Croatia, Equatorial Guinea, Guatemala, Jamaica, and multiple teams to Honduras. The highlights include the building of two refurbished playgrounds at Christian schools that ministered to kids who lived in slums and on a landfill. Rich and his wife Kristin live near Kalamazoo, Michigan with their daughter Elizabeth and son Bryce. They are active members of Richland Bible Church. Rich currently work with Kids Alive International and is excited to head up their new refurbished playground ministry and radio station initiatives.