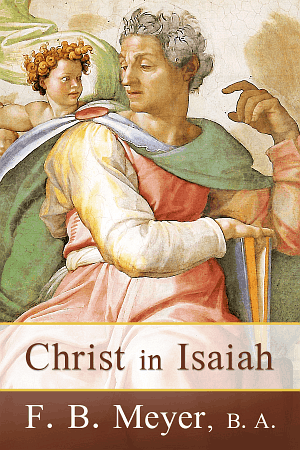 Product Details
An exceptional work on the Messianic passages. Meyer's usual simplicity and profound insight are evident in this book.
About the Author
One of the greatly loved preachers of his day, Frederick Brotherton Meyer was a pastor, author, Bible teacher and evangelist. He was born in London in 1847.
Dr. Meyer began pastoring in 1870, and in 1872 he went to Priory Street Baptist Chapel. There he met D. L. Moody, who made a lasting impression upon his life and taught him valuable spiritual lessons. These two godly men formed a lifelong friendship.
During his long and fruitful life, he preached more than 16,000 sermons. Said one author: "The phrasing of Meyer's sermons was simple and direct; he polished his discourses as an artist polishes a perfect stone. There was always a glowing imagery in his words; his speech was pastoral, lovely as an English valley washed in sunlight…In his day, great wars raged. Those who went to hear him forgot the battles."
A distinct feature of F. B. Meyer's ministry was his outcry against the social evils of his day. Not only was he effective in the temperance movement, but he was also responsible for the closing of over 500 houses of prostitution. He also formed a prison aid society.
A devoted student of God's Word, he was the author of over 40 books, including Bible biographies (character studies), devotional commentaries, sermon volumes and expository works. He also authored several pamphlets and edited a number of magazines.
Endorsements
F B Meyer preaches as a man who has seen God face to face
The redemption of Israel out of Babylon is here made the subject of a series of lucid and inspiring expository essays, covering the sections of Isaiah's prophecy devoted to that theme. The quality of the author's work as an interpreter of Scripture is already well known and highly appreciated in this country. Nothing thus far issued by him can, in our judgment, deserve wider or longer favor than this apt, keen-eyed, eloquent expansion of the prophet's inspired words.
Dr. F. B. Meyer is one of the great preachers of a past generation