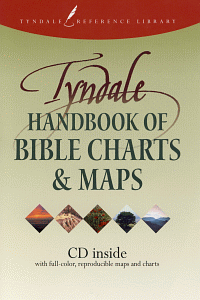 Tyndale Handbook of Bible Charts & Maps
Highlights
Features 566 Bible charts
200 Bible maps to help illuminate key biblical places
Great for illustrating geographical relevance for sermons and Bible study lessons
Bible references linked to the New Living Translation
Product Details
Discover and explore the Bible world with 200 amazing maps. Over 550 Bible charts help you unlock the meaning of Bible passages, trace themes throughout the Bible, and understand when Bible events occurred. Each chart is an instant lesson waiting for you to unpack it.
About the Editors
Neil S. Wilson, a graduate of Aurora University (BA) and Trinity Evangelical Divinity School (MAR), served as pastor of the Eureka United Methodist Church in Wisconsin for 13 years. Neil has contributed to dozens of projects for Livingstone, including the Life Application Bible and the Life Application Bible Commentary. He is the author or general editor for The Handbook of Bible Application, Love Notes, The Mysterious Old Church, and The Tall Ship Shakedown.
Linda K. Taylor is a freelance editor and writer for the Livingstone Corporation and for Tyndale House Publishers. She served on the editorial team for the Life Application Bible and the volume on the Gospel of John in the Life Application Bible Commentary series, both of which won Gold Medallion Awards.