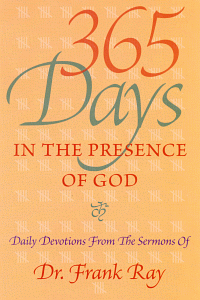 365 Days In The Presence of God
Daily Devotions From the Sermons
Product Details
We all need encouragement as we start each day with new dilemmas and challenges. This devotional, drawn from the sermons of Dr. Frank Ray Sr., offers you a fresh dose of God's word along with God's wisdom. We need God to give us discernment and direction in our daily walk. As we dwell in God's word, we receive the answers we need for every situation we may face.
About the Author
Dr. Frank E. Ray, Sr. is one of America's most respected Bible teachers. He has traveled the length and breadth of this country, spreading the gospel and fulfilling his commitment to bringing souls to Jesus Christ. For more than three decades, Pastor Ray has been the under-shepherd of the New Salem Missionary Baptist Church in Memphis, Tennessee, "The Church Where the Spirit Meets the Soul."
In 1972, at the age of twenty five, God sent Pastor Ray to New Salem from Arlington, a small town outside of Memphis, and he has been tirelessly saving souls ever since. Under his leadership, the church has experienced phenomenal growth by expanding its membership from fifty members to five thousand members, implementing fifty ministries, and moving to a super structure adjacent to the previous location. The new facility houses a sanctuary, banquet hall, Family Life Recreational Center, prayer center, audio and video media ministry, an indoor gymnasium, a book store and classrooms.
The ministry of Dr. Frank Ray has spanned more than thirty years since God miraculously anointed him to preach the gospel. He is a much sought-after evangelist and Bible teacher for crusades, revivals, and conferences.
Often referred to as "The Walking Bible", he preaches the word of God with spirit-filled and scriptural simplicity. Today the scope of "God Is Good Ministries" is worldwide. His radio and television ministry is touching thousands of lives throughout the United Sates and around the world.
His leadership skills and constant study of God's Word has earned him numerous honors and awards. He was recently appointed by President W.J. Shaw to serve as chairman of the "Late Night Services" and the Audio & Video Media Ministry for the National Baptist Convention USA., Inc.
In July 2002, he launched the first Frank Ray Expository Preaching and Teaching Conference. The New Salem church family is excited about what God is doing in this ministry as He continues to speak through this anointed man of God.
Through Dr. Ray's teaching and preaching many have entered into a personal relationship with Jesus Christ, while others have had their faith strengthened. After hearing and receiving the message from this man of God, you will not be the same.