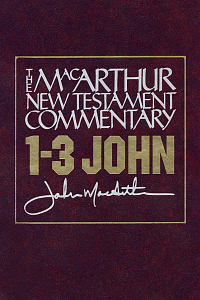 MacArthur New Testament Commentary - 1, 2 and 3 John
Highlights
Over 1,000,000 copies of The MacArthur New Testament Commentaries sold to date
Considered the premier New Testament Commentary series, used worldwide by pastors,
teachers, and students of the Bible
Not linguistically or theologically technical, but explanatory
Product Details
From the bestselling bible commentator alive, comes the new addition to the MacArthur Commentary Series - 1,2,3 John. These commentaries have been praised for their accessibility to lay leaders and are a must for the library of every pastor. John MacArthur gives verse-by-verse analysis in context and provides points of application for passages as well.
The apostle John is really a man for our times. He wrote his three New Testament letters in a bold, direct, even dogmatic manner—more so perhaps than any other New Testament writer. Although renowned traditionally as the apostle of love (and he was), he was an authoritative, uncompromising teacher—an exclusive-style instructor with a crucial message of truth versus error, which the church much needs to hear in the twenty-first century.
This commentary considers John's clear, simple, unambiguous words from his three brief but profound letters. His themes, some of them reiterated more than once, emerge powerfully—such as the first letter's stress on doctrinal certainty, moral clarity, and the preeminence of biblical love, along with the second letter's emphasis on living the truth and the third's on discerning friends and foes in the local church.
About the Author
John MacArthur, Jr. pastors Grace Community Church in Sun Valley, California, and serves as President of the Master's College and Seminary. A well-known Bible expositor and conference speaker, he has written numerous books. He is also the Bible teacher on "Grace to You", an international radio broadcast. He and his wife Patricia live in Southern California and have 4 grown children and eleven grandchildren.
Endorsements
The MacArthur New Testament Commentary is nothing less than a library of faithful exegesis and exposition. This project is unparalleled in our times, and John MacArthur has produced a masterful commentary series that demands attention and deserves a place in every preacher's library—where it should be kept close at hand. These commentaries remind us all that expository preaching is very much alive. Each new volume should be greeted with enthusiasm and gratitude.