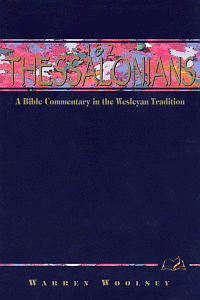 1 & 2 Thessalonians: A Biblical Commentary in the Wesleyan Tradition
Highlights
A Commentary in the Wesleyan Tradition
Based on the New International Version
Product Details
1 & 2 Thessalonians: A Biblical Commentary in the Wesleyan Tradition is part of a commentary series that interprets the books of the Bible from a Wesleyan perspective. While it is designed primarily with lay people in mind—Sunday school teachers, Bible study leaders, students of the Word—pastors will also find it most helpful. Following the New International Version, each book of the Bible is explained paragraph by paragraph, illuminating the key concepts of each passage and how they relate to our life and times today. This series offers insight into the Scripture that brings greater understanding of what the Bible says, its significance for our lives today, and further transformation into the images of Christ.
About the Author
Warren Woolsey made his "decision" to seriously follow the Lord in his junior year at Houghton College. After serving his military duty in Europe, Reverend Marion Birch recruited him to teach in the Bible School in Gbendembu, Sierra Leone.
With graduate studies at Biblical Seminary in New York City in hand and with financial support from Houghton Church and the college Foreign Missions Fellowship he and his wife Ella were on their way to Sierra Leone in 1950 and served until 1966, three terms up-country in theological education and field administration, and a fourth term near Freetown, founding the interdenominational, Sierra Leone Bible College. Through much prayer, led by national pastor Rev. Bai Bangura, Warren survived in Gbendembu a near fatal attack of typhoid fever in 1957. There were days when Warren's life hung by a thread. Recovery from that illness resulted in a home-side stint teaching Bible and theology at Houghton College in 1958. With a capable replacement and family concerns at home, and a sense of God's release from Sierra Leone, Woolsey joined Houghton's Religion Department full-time in 1966 and served until 1992. Dr. Woolsey has been an ordained minister in The Wesleyan Church for forty-six years.