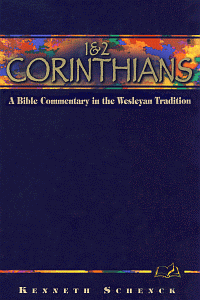 1 & 2 Corinthians: A Biblical Commentary in the Wesleyan Tradition
Highlights
A Commentary in the Wesleyan Tradition
Based on the New International Version
Product Details
1 & 2 Corinthians: A Biblical Commentary in the Wesleyan Tradition is part of a commentary series that interprets the books of the Bible from a Wesleyan perspective. While it is designed primarily with lay people in mind—Sunday school teachers, Bible study leaders, students of the Word—pastors will also find it most helpful. Following the New International Version, each book of the Bible is explained paragraph by paragraph, illuminating the key concepts of each passage and how they relate to our life and times today. This series offers insight into the Scripture that brings greater understanding of what the Bible says, its significance for our lives today, and further transformation into the image of Christ.
If we gave an award to the church in the New Testament with the most problems, it would have to go to the church at Corinth. But through their problems, God has left us an incredible wealth of insight, not only into what a church should not be, but especially into what a church should be. To understand 1 & 2 Corinthians is to understand what God wants; both of a church and its leaders.
About the Author:
Dr. Kenneth Schenck is a Professor of Religion and Faculty Advisor at Indiana Wesleyan University. He has been on staff since 1997. Dr. Schenck earned his A.B., Religion, Southern Wesleyan University; M.Div., Asbury Theological Seminary; M.A., Classical Languages and Literature, University of Kentucky; and his Ph.D., Theology New Testament, University of Durham, England.