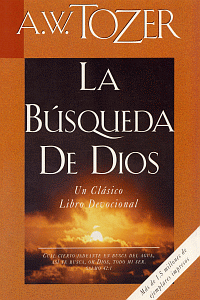 La Búsqueda de Dios
Un Clásico Libro Devocional
Highlights
Traducido al español por Dardo Bruchez
Product Details
En este turbulento diario vivir, ¿haz olvidado de alguna manera que ser cristiano es una forma de vivir, una vibrante relación con un Dios personal? Tozer te lo recuerda y te reta a renovar tu relación con el Dios de amor. En cada uno de los 10 capítulos de este libro, Tozer explica un aspecto de esperar en Dios, terminando con una oración.
Endorsements
Feliz el cristiano que lee un libro de Tozer cuando se alma se encuentra marchita y le parcee que Dios esta muy lejos.
A.W. Tozer is a must. Actually, I prefer reading Tozer over listening to him. The Knowlegde of the Holy should in everyone's library. Tozer and Havner are much alike, with one sentence or phrase they can rock your world.