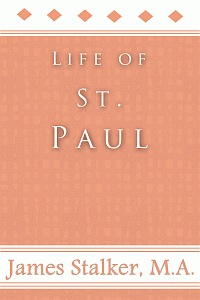 Highlights
Required Textbook at Western Reformed Seminary
One of the most widely read biographies on the life of St. Paul
Product Details
This book explores, in a concise format, the life of the apostle Paul—the man, his place in history, his gospel, and his missionary journeys.
Part of a trilogy: The Life of Jesus Christ, The Trial and Death of Jesus Christ, and The Life of St. Paul.
About the Author
James Stalker was born in at Crieff, Scotland in 1848. He was educated at the Universities of Edinburgh, Halle and Berlin. He was an incumbent of many pastorates in Scotland. In 1891 he delivered the Lyman Beecher Lecture series on Preaching at Yale. He also served as professor of church history in the United Free Church College in Aberdeen from 1902 to 1926. He was also the examiner for the degree of B.D. at Aberdeen. He was the author of several books, including The Life of Jesus Christ, The Trial and Death of Jesus Christ and The Life of Saint Paul. He passed away in 1927.
Endorsements
An exceedingly compact life of the Apostle to the Gentiles. It is bristling with information, and is brief, yet clear. As an outline of Paul's life it cannot be surpassed.
An ideal work for laymen.
St. Paul is next to Jesus as the greatest figure in the gospel history. The author has done his work well. The book is worthy of all praise. Thoughtful Bible students will obtain help here for the understanding of the character of this great man.