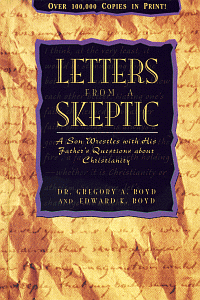 Letters From a Skeptic
A Son Wrestles with His Father's Questions about Christianity
Product Details
In Letters from a Skeptic Dr. Gregory Boyd and his father Edward Boyd "debate" objections to Christianity, the church, and the Bible.
Why is the world so full of suffering?
Does God know the future?
How can you believe that a man rose from the dead?
Why do you think the Bible is inspired?
Do all non-Christians go to hell?
How can I be holy and sinful at the same time?
Greg Boyd initiated this correspondence with his father in the hope that his father would eventually come to know Christ. After three years, 30 letters, and numerous phone calls, Edward K. Boyd did just that.
Letters from a Skeptic will help you wrestle with the rational foundation of your own faith. It will also help you know how to share that faith with the skeptics you love.
About the Authors:
Gregory A. "Greg" Boyd is an evangelical pastor, Christian theologian, and author. He is Senior Pastor of the Woodland Hills Church in St. Paul, Minnesota, and is President of Christus Victor Ministries.
At the age of seventeen Boyd committed his life to Christ. He graduated cum laude from Yale Divinity School (1982) and magna cum laude from Princeton Theological Seminary (1987). He was Professor of Theology at Bethel University for 16 years, where he continues to teach on an adjunct basis.
Boyd is also known as an exponent of open theism, which he explores in the book God of the Possible. In his view, the 'Kingdom of God' always looks like Jesus Christ, and therefore cannot be associated with any particular political or nationalistic ideology. His view, stems from a 2004 sermon series that he spoke called "The Cross and the Sword." In the same vein, he authored the book The Myth of a Christian Nation: How the Quest for Political Power Is Destroying the Church.
He was featured in the CNN documentary God's Warriors, hosted by Christiane Amanpour, which aired in August 2007. Boyd is also a notable figure in New Testament scholarship and the Quest for the Historical Jesus. He is critical of liberal scholarship. He participates in numerous public debates, most notably with friend and religious skeptic Robert M. Price on the historicity of the New Testament and related matters. His recent work The Jesus Legend: A Case for the Historical Reliability of the Synoptic Jesus Tradition won the 2008 Christianity Today Book of the Year Award, Biblical Studies category.
Edward K. Boyd resides in Lake Placid, Florida. He is the father of six, grandfather of fifteen, and great-grandfather of nine. He worked thirty-five years in sales management with Uniroyal Tire Company. After years of agnosticism, Mr. Boyd became a Christian at the age of 73.