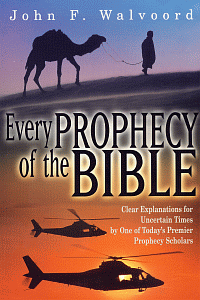 Every Prophecy in the Bible
Product Details
Prophecy is much more than the events predicted in the Book of Revelation.
It is not just for Bible scholars, pastors, and seminary students. Nearly one fourth of the Scripture was prophetic when it was written, so obviously God intended through these predictions to reveal something about His character and His faithfulness—not just to the people who first heard them, but to us who read them today. Indeed, prophecy does much to demonstrate not only our future hope as believers in Jesus Christ but also the accuracy of the Bible, the righteousness of God, and the meaning of history.
John F. Walvoord, one of the preeminent Bible prophecy scholars in the world today, explains in one volume every key prophecy from Genesis to Revelation—those already fulfilled as well as those yet to be fulfilled. He also discusses the importance of prophecy and guidelines for interpreting it.
About the Author
John F. Walvoord is Chancellor and Professor of Systematic Theology, Emeritus, Dallas (Texas) Theological Seminary. He has served on the faculty since 1936 and was inaugurated as its second president in 1953. Known worldwide for his evangelical scholarship, Dr. Walvoord has written or edited 26 books and dozens of articles for magazines and scholarly journals. He holds two master's degrees (M.A. and Th.M.) and Dallas' Doctor of Theology (Th.D.) degree. In 1960 Wheaton College awarded him the honorary Doctor of divinity (D.D.) degree and in 1984 Liberty University awarded him the honorary Doctor of Letters (Litt.D.) degree.