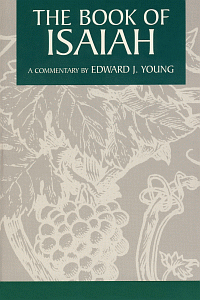 The Book of Isaiah
A Commentary
Highlights
Easy to read transliterated Hebrew
Conservative and solid
Product Details
A classic in conservative Old Testament scholarship, this three-volume commentary by Edward J. Young concentrates primarily on the meaning of the Masoretic Hebrew text, rather than on specific textual problems. This work is a major benchmark for conservative, evangelical commentaries from a non-dispensational perspective. Young expounds on the prophetic nature of Isaiah, drawing from archaeological, cultural, and intellectual backgrounds. Young addresses the theories put forth that there was more than one author of the Book of Isaiah.
About the Author
Edward J. Young, Th.B., Th. M., Westminster Theological Seminary, Ph. D., Dropsie College, served as Professor of Old Testament at Westminster and as a Minister of Orthodox Presbyterian Church until his death in 1968.
He wrote numerous volumes related to the old testament: Old Testament Introduction, The Prophecy of Daniel, My servants the Prophets, The Word is Truth, and The Book of Isaiah.
Endorsements
One of the 850 Books for Biblical Expositors.
One of the Best Tools for Preaching and Teaching.
Concluding his manuscript of his third volume on Isaiah shortly before his death in February, 1968, Prof Young was able to lay the copestone on his most outstanding commentary. He will be long remembered as a careful and most helpful exegete.
Young's work certainly needs no recommendation from me. He took the amillennial approach, but his work is still valuable for all serious students, Young's separate study of Isaiah 53 is one of the best on that chapter.