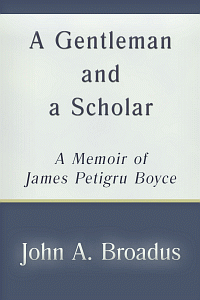 Gentleman and a Scholar
Memoir of James Petigru Boyce
Highlights
An excellent biography of the founder of Southern Baptist Theological Seminary
Broadus is called by many as the father of American expository preaching
Product Details
A detailed memoir of James Petigru Boyce, founder of Southern Baptist Theological Seminary, written by John Broadus, one of the founding faculty members and second president of the seminary. This book is filled with historical data about the South of the mid-nineteenth century, giving glimpses of religious, social, and political thought that make for interesting reading. Broadus and Boyce were very close friends, and were instrumental in keeping the seminary going after the Civil War.
About the Author
John Albert Broadus (1827 - 1895) is best known for his Treatise On the Preparation and Delivery of Sermons, it has been revised and edited many, many times. He also published Lectures on the History of Preaching (1876, revised, 1896); A Commentary on the Gospel of Matthew (1886); Sermons and Addresses (1886); Jesus of Nazareth (1890); Memoir of James Petigru Boyce (1893); and the Harmony of the Gospels (1893). He served as Professor of New Testament Interpretation and Homiletics at Southern Baptist Theological Seminary, 1859-1895
Endorsements
The Memoir of James P. Boyce by his loyal friend and colleague, John Broadus, contains a wealth of wisdom, practical theology and testimonies of God's providence in the life of one of prime shapers of early Southern Baptist life and thought. This book provides a wonderful portrait of a denominational statesman, pastor, theologian and educator.
The term 'graceful' in its most basic sense of 'being full of grace' well applies to the life of James Petigru Boyce. God's grace gave him rich resources of theological wisdom as well as a winsome personality. These led to his becoming a key leader among the Southern Baptists, one who inspired others to embrace his deeply-held God-glorifying goals. As such, his was a life that profoundly shaped this Baptist community in the late nineteenth century and still speaks powerfully today of the importance and impact of a Christian life lived for the glory of Christ.