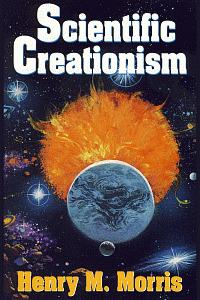 Product Details
The story of the origin of all things: Does the scientific evidence support special creation or atheistic evolution?
Authoritative and thoroughly documented, Scientific Creationism is easily understood by readers with non-scientific backgrounds. Teachers, students, pastors, and other witnessing Christians can now be equipped with the convincing evidence for special creation. Updated and expanded, Scientific Creationism is a book that has changed the lives of people for Christ – people who have been blinded by the current origin-myth, evolution.
About the Author

Henry M. Morris was born in Dallas in 1918 and grew up in Texas in the 1920s and 1930s. He graduated from Rice University with a bachelor's degree in civil engineering in 1939. After his graduation in 1939, and through 1942, he was a hydraulic engineer working with the International Boundary and Water Commission. He returned to Rice, teaching civil engineering from 1942 until 1946. In 1946 he wrote a short book entitled That You Might Believe, in which he made an effort to attack evolution. From 1946 through 1951, he worked at the University of Minnesota, where he was awarded a master's degree in hydraulics (1948) and a Ph.D. in hydraulic engineering (1950).
In 1961, Morris and John C. Whitcomb wrote The Genesis Flood, which advocated creationism and flood geology. In it he cited an influence by George McCready Price, a Seventh-day Adventist schoolteacher and defender of creationism in the early 20th century. In 1963 Morris and nine others founded the Creation Research Society. In 1970, he founded the Institute for Creation Research in Santee, California and his son, John D. Morris, took over the presidency of ICR when he retired.
While the greater bulk of his published writings address creation science and evolution themes, he also wrote Many Infallible Proofs, and The Bible Has The Answer, which are both works of general Christian apologetics.
On February 1, 2006, Morris suffered a minor stroke and was hospitalized. Morris was moved from the hospital to a rehabilitation facility near his son's home in Santee, California where he died just a few weeks later.
Endorsements
All ministers of the gospel, teachers and professors of our Christian schools on the primary and secondary level, should read this book. A copy should be placed in every church and school library, and used as a textbook in our Christian high schools and colleges.