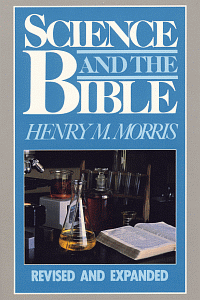 Science and the Bible
Revised and Expanded
Highlights
Science and the Bible
The Theory of Evolution
Science and the Flood
The Bible and Ancient History
Fulfilled Prophesy
Product Details
The reliability of God's Word is under fire today. Man distrusts the Bible as an authoritative source of scientific information. Man, whether right or wrong, chooses to make his own discoveries and draw his own conclusions.
The Bible and Modern Science was first printed in 1946 and later revised. This current edition titled Science and the Bible continues the tradition of comparing up-to-date scientific data with the infallible Word of God.
Rarely have there been more widespread and vicious attacks on biblical Christianity than there are today, and yet the scientific evidences for the divine origin and truth of the Bible have never been as clear as they are today.
About the Author

Morris was born in Dallas in 1918 and grew up in Texas in the 1920s and 1930s. He graduated from Rice University with a bachelor's degree in civil engineering in 1939. After his graduation in 1939, and through 1942, he was a hydraulic engineer working with the International Boundary and Water Commission. He returned to Rice, teaching civil engineering from 1942 until 1946. In 1946 he wrote a short book entitled That You Might Believe, in which he made an effort to attack evolution. From 1946 through 1951, he worked at the University of Minnesota, where he was awarded a master's degree in hydraulics (1948) and a Ph.D. in hydraulic engineering (1950).
In 1961, Morris and John C. Whitcomb wrote The Genesis Flood, which advocated creationism and flood geology. In it he cited an influence by George McCready Price, a Seventh-day Adventist schoolteacher and defender of creationism in the early 20th century. In 1963 Morris and nine others founded the Creation Research Society. In 1970, he founded the Institute for Creation Research in Santee, California and his son, John D. Morris, took over the presidency of ICR when he retired.
While the greater bulk of his published writings address creation science and evolution themes, he also wrote Many Infallible Proofs, and The Bible Has The Answer, which are both works of general Christian apologetics.
On February 1, 2006, Morris suffered a minor stroke and was hospitalized. Morris was moved from the hospital to a rehabilitation facility near his son's home in Santee, California where he died just a few weeks later.