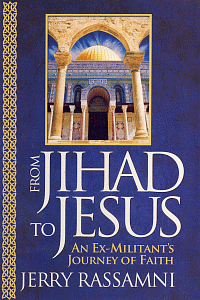 Product Details
Jerry Rassamni is an ex-militant Muslim who shares the evidence that compelled him to abandon Islam. In the same way that Islam boasts of five pillars of the faith, Jerry points out "five exposition pillars" that undrape and expose the skeletons of Islam:
Allah, is he the eternal God of the Bible?
The Qur'an, is it the true word of God?
The prophet Muhammad, was he a Biblical prophet?
Man, is he born in fitrah (pure state)?
Ahadith (Muslim customs and beliefs,) are they from God?
This book offers a forceful and compelling evangelistic tool in a careful apologetic approach. It dismantles Islam by embodying the whole of the debate in a systematic and intuitive structure.
About the Author
Jerry Rassamni grew up in Lebanon as a Muslim during its bloody Civil War and became a militia fighter at a young age. Jerry's heart burned with hatred against his enemies the Maronite (Catholic) militias.
After immigrating to the States, Jerry began to study the bible in order to refute it. Upon examining the scriptures, Jerry was captivated by the love of the God of the Bible who presented Himself not as a distant impersonal God, but as a personal heavenly Father. Jerry's heart was subsequently changed as he had a personal encounter with the Lord Jesus Christ.
Jerry, who is fluent in four languages, is a frequent speaker on apologetics.
Endorsements
This powerful manuscript is meticulously researched and documented... It is a careful apologetic for evangelical Christianity, made even more potent because it is written by an ex-Muslim.